The last day of the 1959 Tube Stock
Last updated on Wednesday 26th January 2000 at 20:00 UT
---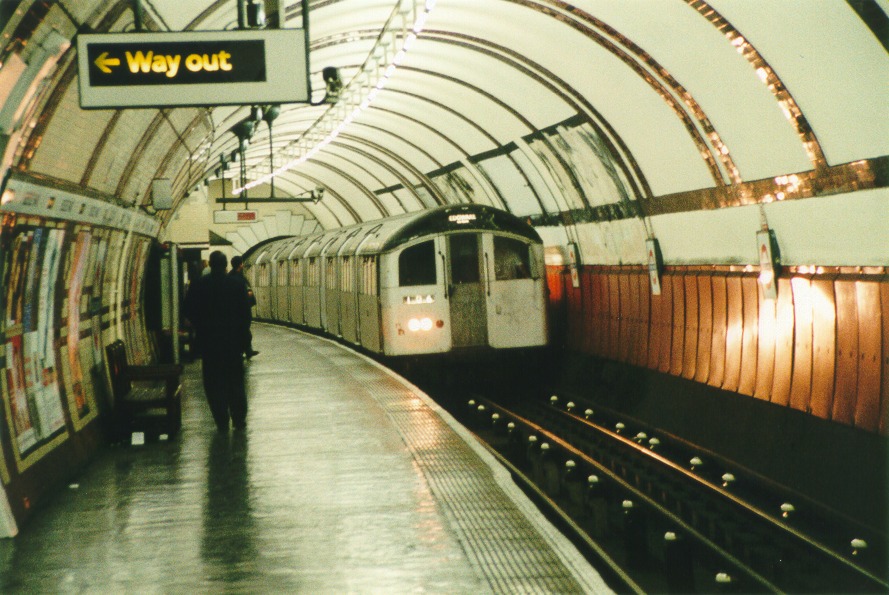 The 1959 stock is, as you can see, being shown the Way Out.
Train 106 arrives at Belsize Park with a service from Morden for Edgware via the Bank, its eleventh journey that day (28 June 1999, about 17:40).
The days of the 1959 Tube Stock are at an end. On Thursday 27th January 2000 (i.e. Tomorrow/Today), the last-ever service train will run. One standard timetabled run in the evening peak will be followed immediately by a "special" journey -- details below.
Please note that there is NO all-day "farewell railtour" or similar event planned.
I anticipate that quite a crowd of enthusiasts and well-wishers will turn out to pay their respects to what has been an undeniably successful type of train, one which has outlived expectations and has a reliability record that will be hard to match, far less beat.
When, on Thursday night, the train pulls out of Morden station to run into the depot for the very last time, London as a whole will have lost the final service example of a type of train which has its design roots firmly planted in the early 1930s. No more will the tunnels of the UndergrounD echo to the unmistakeable sound of LT112 traction motors, and the Northern Line traveller will never again travel on maple-wood slatted flooring or orange/black/white Northern Line moquette; nor will he ever again encounter a guard at the back of the train, nor the hammering-in-the-feet of Westinghouse reciprocating compressors, the "Pop!" of line-breakers or the urgent "Tik-tik-tik" of the camshaft mechanism.
Long-held fixtures in the London transport scene, such as the creaking noise as the car-bodies flex, the comfort of a transverse seat with the wooden window-ledge for an armrest, Westinghouse air-brake applications at penultimate stations (and often Highgate), will all disappear for good. The hiss, clunk and clatter of doors being re-opened because one is stuck somewhere, the "Ding!" of the starter bell, and the shrieking of steel on dry steel as the wheels spin at Belsize Park station, will endure only as a memory. Upon arrival at the last terminus, the world will hear - from a tube train in service - for the very last time the unique rush of air (and subsequent "burping" noise!) as the motorman shuts down his cab. Even the title of Motorman will cease to have relevance from then, as of course will that of Guard.
---
Thursday 27th January: details of 1959-stock final runs
Train 132 will run as '59-stock in the evening peak, as follows. It is not known which units will operate the service (unlikely to be the 4-car Heritage, might be the 3-car Heritage). My guess is 1300+1031, on that basis, but I could perfectly well be wrong!

1636   dep Morden depot, empty stock, to 
1643   arr Morden station platform 5, where it enters service

1643.5 dep Morden platform 5
1651       Tooting Bdy
1706.5 arr Kennington platform 3
1708.5 dep Kennington platform 3 to run via the Bank
1718.5     Moorgate
1727       Euston (City, platform 3)
1731       Camden Town platform 1
1737.5     Hampstead
1741.5     Golders Green (platform 2)
1749       Colindale
1754.5 arr Edgware, platform 2.

1801.5 dep Edgware, platform 2
1806       Colindale
1814   arr Golders Green platform *4* (i.e., the "middle road")
1816   dep Golders Green platform 4
1819.5     Hampstead
1825   arr Camden Town platform 2
1826   dep Camden Town, with the "bar" on the signal for the Bank branch
1829       Euston (City, platform 6)
1838       Moorgate
1848   arr Kennington platform 4
1849   dep Kennington platform 4
1906       Tooting Bdy
1914   arr Morden, platform 2:  the final arrival of scheduled 1959 stock ever. 

At this stage, Train 132 is SUPPOSED to detrain, and run empty to Morden Depot via reception road 44, arriving at its "end of duty" for the day at 1919.
However, instead the train will REMAIN in platform 2, and will then work the following "extra" service. Whether it will stay as Train 132 or whether it might become "059" (never normally used as it contains a 9 which the signalling machines cannot cope with) I don't know!

The following paragraph is courtesy of Northern Line HQ:

APPROXIMATE TIMINGS
1920 dep Morden platform 2 in service.
1943     Kennington
(route to be advised)
2001     Camden Town platform 1
2024 arr Edgware platform 1.
After stop over for photography etc., depart empty to a destination as advised by Alstom.

All I actually KNOW is the above, but judging by the times of train 121 (which leaves Morden 1.5 minutes before the above and runs to Edgware via the Bank), this train will very probably run via Charing Cross (it goes on to beat 121 by 2 minutes, which represents the 3.5-minute difference between the City and Charing X branches).
On the basis that this is SPECULATION, I give the following times. Please note that this Special may in fact run via Bank after all (although how it would then overtake Train 121 would be a mystery!)

Speculative timings:

1920   dep Morden platform 2 in service
1927       Tooting Broadway
1943.5 dep Kennington platform 1 (probably after being held for 2min near Oval for train 161)
1949.5     Charing Cross
2001   dep Camden Town, Edgware branch
2007       Hampstead
2010.5     Golders Green (perhaps being routed via the NB loop?)
2018       Colindale
2024   arr Edgware, photographic stop, platform 1.

Should you turn out to travel on any of the above sections of journey, feel free to say hello if you see me (hint: 22-yr-old bloke, mugshot 1 click away from my homepage, and I'll be wearing black jeans and boots, a white collared shirt and a Northern Line drivers' tie (which is blue with silver "Aumonier's Archer" insignia), plus probably carrying/wearing a black/red rucksack, blue-ish camera-bag and a grey coat, and using a Canon camera!).
---
It is still minutely possible that one or two trains will run in service on Thursday morning; if so, they are very likely to be one of the workings shown below (these figures are Train Numbers and refer to a given set of journeys in the timetable; all trains carry 3-digit Train Numbers visible on their front and rear).
Morning peak:
The timings for these (and some other) workings can be found here:
Northbound and Southbound trains, Monday to Friday (i.e. on Thursday!)
---
Feedback
Readers are invited - nay, requested - to drop me an email (or come and say hello, on Thursday!) if they see or travel on a '59 as a result of seeing this page (especially if you plan to ride on the workings on Thursday 27th January)! If (in other cases!) you could include any details of the train number or unit numbers, that would be useful as well. Any final thoughts on the stock, fond memories from the early days, horrible memories from the early days...? I'd love to hear them.
---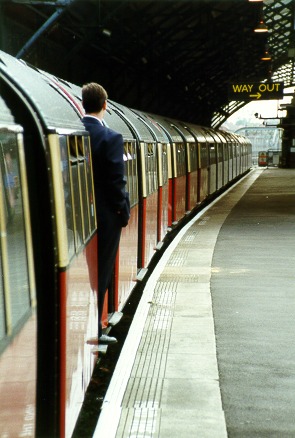 Together with the 1959 stock, Guards are being shown the Way Out as well.
On all other stocks, his duties are carried out by the Train Operator. At Edgware, the guard watches for the starter signal to clear before closing the doors and belling his train away. The rear unit is 1031, half of the Heritage train (Sunday 13th June 1999).
---
Go to "Heritage" 1959 stock page
---
Uncommonly Honest Disclaimer: I don't work for LU and never have. The material on this page has been taken from the current WTT, number 47, in breach of the "Private - for staff use only" notice. I apologise accordingly, but hope that the importance of such information to lovers of 1959 stock would be seen as a fair excuse for this infringement. If, dear reader, you are a high-ranking member of LU staff, feel free to berate me by email.
---
I welcome all comments and queries by email
Squarewheels home > railway > LU rolling stock > last day of the 1959 tube stock