SQUAREWHEELS

.org.uk


D78 stock
This page was last modified on 6 September 2018
These sub-surface stock trains operate the main District Line services, between Upminster and Wimbledon, Richmond, and Ealing Broadway; one train is also used on the shuttle service from High Street Kensington via Earls Court to Kensington (Olympia). They are not permitted to run to Edgware Road, so through Wimbledon/Edgware Road services are run by C stock.
Generally referred to as 'D stock', the first example entered service in January 1980. The trains are unique amongst sub-surface stock in having bogies which have the smaller wheels of tube stock: their bogies are the same as those on the 1983 tube stock. The sliding doors are all single-leaf, i.e. one door per doorway: this means a narrower entrance/exit, which in turn holds trains up at stations — this phenomenon was also shared by the similarly-equipped 1983 stock and helped its early demise.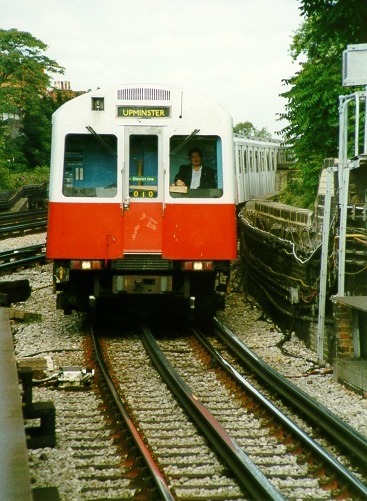 The rectangular box to the left of the destination blind is the air-operated whistle. The red band on the cab front is the only part of the train body which is not finished in just its bare aluminium; these trains are shortly to be fully refurbished, now that the Piccadilly Line 1973 stock's refurb programme is complete. This process, which has already been applied to all other pre-1990-vintage Underground stocks, will include painting them in the London Underground corporate livery and doing away with the slatted maple-wood flooring; also, the bobble-on-a-spring "straphanger" will become a thing of the past.
Just outside the left-hand running rail in front of the train is a train-stop apparatus: the small (blackened) white-painted arm at its right-hand side is raised and lowered by the pneumatic switch-box that it is attached to. If the signal in the top right of the picture is at danger, the train-stop will be raised, hitting the trip-cock of any train which passes the signal at danger: this applies the emergency brakes. Such a system has been used by LU since the early days of the Central London Railway (now the Central Line), which opened in 1900.