RFG's letter/travel-log from Hawaii, 1973
First published in early May 2022, and last modified on 2022 May 26
⏱ A 30-minute read
This is a transcript of a travel-log which Roger Griffin wrote in a letter home to his young family in December 1973, whilst on an adventurous holiday on a mountain in Hawaii.
The scanned original letter is available on Dropbox as a PDF. Roger wrote in dense handwriting with his fountain pen on both sides of 5 sheets of Volcano House nearly-A4-sized writing-paper plus one similar sheet from Caltech; the envelope also contains a sketch-map on an unbranded sheet of white paper. Roger's packing list for this trip was also latterly discovered and scanned.
During the 1970s Roger had an observing-run each December at Palomar, to work on the Hyades project. He found that much cheaper fares were available if he spent more than 21 nights away (the '22-to-45-day fare' which was discouraging to ordinary people who couldn't spend over 3 weeks away). It was permissible to break the journey on the return leg. So what he did was to book a trip not to Los Angeles but to Hilo, Hawaii, with the return leg being via Los Angeles. He would craftily contrive his outward itinerary such that he had to change planes overnight in L.A. which meant he could dump his observing-related luggage at Caltech and stay the night, before setting out to Hilo and going on his holiday. He had 6 Hawaiian holidays in this fashion.
Mauna Loa is considered to be the largest volcano on earth; neighbouring peak Mauna Kea, the highest point in the state of Hawaii, is only some 38 metres taller.
Naturally, all temperatures Roger quotes are measured in Farenheight.
The photographs on this page were all taken by Roger. He took about 100 slides on this 1973 trip alone, and I have scanned (at 4800dpi) a small selection of them (plus a few from his other Hawaiian trips) thus far. The original scans are linked from the scaled-down versions shown on this page.
I read an extract from the early part of the material on this page during Roger's Memorial Service on 2022 May 14.
Puu Ulaula (Red Hill), 1973 Dec 2
Hi, Cindy! Hy? Rupert!
Here's Yogi/Daddy halfway up Mauna Loa. Things cannot be said to be going exactly according to plan, principally on account of bad weather. On Friday the wind changed – I feel sure it ought to be the NE trades here but anyway it went SE or nearly S & blew the smoke from Halemaumau only just west of Volcano House. Yesterday morning there was a southerly gale, and rain varying from light to that inch-a-minute downpour I seem to be getting used to. Since it cleared up, more or less, on Friday, & since I imagined that it was often wet at Kilauea but the weather would often only reach to about 8,000 feet, I set off. To start with the rain was light but by the time I'd gone a mile one of the downpours came on & I was soaked. After that it never really stopped any more at all! Nobody in his senses would be driving up the Mauna Loa Strip Road on such a day. There were in fact two cars, & one of them stopped for me, but the driver then decided it was raining too hard to see to drive so he only took me two miles & then turned back! I had to walk the rest of the 14 miles to the top of the Strip Road; it wasn't a day for stopping & I got there about 12.45 having started at 9. I was already very cold, & although it had been my intention to keep my red gnome suit dry for when I got to the hut I felt I had to put it on right then; so I stood in the wind-blown 'summerhouse' at the top of the road & struggled out of my sopping anorak & put it back on over the gnome suit. Such a day! The trail, notwithstanding it was on porous lava, was serving in many places as the bed of a fast-flowing stream in which I was very often ankle deep & sometimes nearly knee deep. It really wasn't the most enjoyable of hikes – I was glad you were not with me. I suppose if I'd had any sense I'd have stopped at Volcano House till it was a nice day – that would have been at least two more days so far! Anyway, it was a question of whether I could make it to the hut before I caught my death of cold; fortunately I won, about 16.30! Then I made the unwelcome discovery that I hadn't anything dry to speak of even in my pack. In truth it must have rained several inches on me while I was walking – how many I couldn't guess; but even so it would have reasonable to hope that one's pack was watertight. My sleeping bag too, in its waterproof bag, was pretty wet. Also I was far from smart in making the elementary mistake of not putting my matches in a positively waterproof container – I thought that they were all right where they were – so I couldn't light even a candle. There are lots of things in this hut, but curiously not a single match. I don't know if a match once sogged will ever work again? So anyway I had about an hour of the faint wet gloom that passed for daylight yesterday left, & there was no doubt what to do with it. I merely took my camera & one or two things out of their puddles, spread out my sleeping bag on a bunk, got out of my sopping clothes & got into the sack, leaving everything else to take care of itself the next day. I was very cold & my teeth were chattering & there was every reason to get into the sack as soon as possible. It was unpleasantly wet but not saturated & by midnight it had largely dried off.
Today has been just like yesterday until about the time I started to write this (it is now 16.30) when it started to try to clear. There is still the tearing southerly gale but the rain has stopped & there have been a few glimpses of sunshine. Although I am not feeling the altitude in any obvious way I have been glad enough to spend half the day in bed & (fortunately!) have little appetite. My resting pulse rate was 80 this morning so the system evidently sees something unusual to be coped with. The rest here will surely make the hike to the summit a bit easier than if I had gone straight on this morning, as I would have if the weather had been good throughout. However I am quite definite that I'm not leaving this hut until the weather is good – just hope that doesn't mean I'm trapped here till Christmas! There's just no way of drying wet clothing except on a dry day – I've hung up my things & squeezed them but they're as wet as ever. When it's a nice day I shall just have to put them on again soaking wet & let them dry on me! Happy days! Fortunately I've got enough dry clothing to enable me to sit & write at the table: a pair of socks & a T shirt which were only damp & which I dried by wearing them in the sack, my thin down-filled trousers which were damp but which soon dried on me, & my down jacket which was in its own bag inside my pack and which never got wet. There – that's about all for now. Some people take their holidays very seriously, n'est-ce pas?
Summit hut, December 4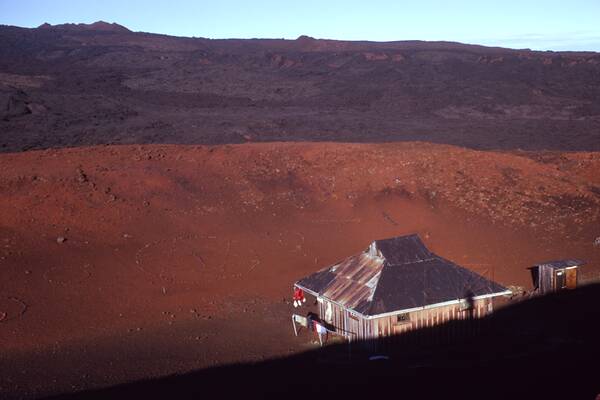 Hi again! Yesterday dawned nice & bright just as days ought to do, so I got up nearly as soon as the sun did & put all my wet clothes outside. I found that someone had left me some bacon & oatmeal, and white gas in the stove, & considering that the two former wouldn't keep I did them the service of eating them – and making some fried bread too! I didn't hurry as I hoped my things would dry, which they mostly did, & it was 9.45 when I set off for the summit. Although I felt reasonably fit & set a gentle steady pace I couldn't help noticing that the 9 miles to North Bay (of the great crater Mokuaweoweo) seemed a long way & the pace got more gentle & less steady all by itself as I got higher. About 12,500 feet I got onto snow – in 200 feet it went from the first patches to continuous soft snow cover with just odd blocks of aa sticking through. The cairns (ahus) stood out nicely but otherwise the snow was trackless – evidently it had fallen during the storm in which I came up to Red Hill. The famous 2¼ miles from North Bay to the hut, which everyone seems to find such a trouble, were indeed a long hard hike through the soft snow; yet I was not feeling particularly mountain sick, just rather weak & tired. I finally reached the hut about 16.30. There is a new water barrel with a proper tap at the bottom; unfortunately it was buried (the tap I mean) under 18 inches of snow & the first thing I had to do was dig it out to get some water. The temperature in the hut was about freezing, outside a few degrees lower but the keen wind made it very cold when one wasn't moving. My feet are not in very good shape, as always seems to happen when I go hiking – although it must be admitted that the conditions of the walk to Red Hill were not beneficial to feet. I had started out for the summit without socks, & that seemed quite helpful till I got on the snow; but then I kept sinking in the snow & after getting some nasty grazes on the ankles from hidden lava blocks I had to stop & put on some socks. They are still frozen on the floor where I put them when I took them off! My shoes froze during the night, but the frost was not severe & they soon melted enough to be put on when I wanted to put them on this morning. I was much annoyed upon arriving to find my tent missing from my pack! – it was strapped on on the outside. Still, I was almost sure it was there at North Bay, & a yellow tent is easy to find on snow – more so than a fountain pen on lava; I supposed it had dislodged itself some time when my foot descended a long way unexpectedly, as happened innumerable times on the way from North Bay.
I slept all right although I woke occasionally; I took my watch off & put it on the floor beside me about midnight, & it promptly stopped. When I woke again, sure it was much later, I went to look outside; I was just too late really as there was the first glow of dawn in a compressed blue rim on the eastern horizon, & there was evidently a lot of cirrus about too; yet the zodiacal light stood up clear to the zenith, & β Carinae, whose meridian altitude here is less than 2°, looked perfectly bright on the southern horizon. I set my watch then to 6am by way of a guess at the time, & went back to bed. I had rather a headache, which I did not have at all yesterday. I got up again about 8.30, principally to dig out the loo & something I didn't bother with yesterday. There wasn't a formal loo when I was here before; & while it is all very well to move a bit of lava & put it back afterwards it isn't so easy when there's 18 inches of snow on top! I found that the snow was now hard, with a granular surface which gave a good grip to one's shoes; so although I hadn't particularly meant to go anywhere, I decided forthwith to go & look for my tent. I started off as easily as you please, & found the tent with no difficulty about a mile & a half from here. But then it seemed such a nice day, & the walking was so easy that no harm could come to me unless I did something really silly, that I bethought me of the summit, a further 2.6 miles from North Bay. So I left the tent where it was & went on, reaching North Bay in only 38 minutes from the hut, & went on with no difficulty to the summit – a marvellous walk on this vast expanse of hard snow, with fantastic views into the crater & across to Mauna Kea, Hualalai & Haleakala. I was back at the hut at 13.20 having started at 9.40. I did consider returning by the south end of the crater, but decided that might do for another day and recalled that what I really came out for was my tent! It is now 17h & the cirrus is really thick – I don't know if it presages another spell of bad weather. I have been in the sack a good deal of the time since getting in – it's still the warmest place, more particularly for my front paws. My writing is worse, I see, than it was at Red Hill, but that is the fault of the temperature rather than the altitude unless I'm much mistaken. A day & a half in the sunshine has got my face sunburnt – hope it's not going to be all in scabs when I get back to Pasadena, but there's nothing I can do about it! The light is very intense here, there's no doubt.
I wonder how C-b & Wψ are faring – not getting soaked, frozen or sunburnt I expect but no doubt there are other difficulties. Hope you are managing all right.
December 5
A fabulous day, with the sky blue to the horizon. The cirrus cleared off late last night. I went outside about 5am to see what there was to see – I'd slept indoors because it was thickly cirrusy in the evening. Fantastic sky as usual! – the remaining clouds were silhouetted so black against the zodiacal light; and you wouldn't dream of taking a photograph in a great swath of sky along the ecliptic because it would be ruinously fogged by this brilliant light. I didn't recall where the comet was supposed to be, but in any case I can tell you that it wasn't an arresting spectacle. I could see ω Car, whose meridian altitude can scarcely be as much as 1°. (How do I know? – I xeroxed some relevant pages of Norton & brought them with me!)
From the state of my face, it is clear that I cannot afford to get any more sunshine at all on that part of my anatomy – a nuisance, because it isn't easy to cover it up! I improvised a sort of mask this morning: sacrificed a handkerchief by cutting two peepholes in it to see through, & attached it to a headband made of crêpe bandage. The principle was all right but I only had three safety pins with me & could have done with some more. The wind had dropped today so I had only my anorak over a T shirt & was quite warm enough. Inspection to see where else I was sunburned showed that I am obliged to wear gloves most of the time if I want to keep the backs of my hands; and even the left side of each ankle is burnt where it saw the sun at each step on my way up from Puu Ulaula when I wasn't wearing any socks! – but that's no trouble now because I need socks anyway. Except that I'm going to lose one nail my feet are not getting any worse, indeed they feel quite all right now.
Today I have been down to the south end of Mokuaweoweo & beyond. I followed the wall round to the end of the main crater & then round South Pit, another crater about half a mile across just-connected with the main one. Further still, as one begins to descend on the SSW slope of the mountain, are two other, rather smaller pits, Lua Hohonu and Lua Hou, which I visited. I should think very few even of the people who come up to this cabin have ever seen these further pits! South Pit has a pretty flat floor; at its north end there are cliffs 250 feet feet high & they shelve down to nothing at the south end, from which an enourmous flow of exceptionally jagged aa issued in 1949. The shelving of the cliffs was quite as steep as I liked to descend; and although one's fall (if nothing else) would be broken within a few feet by the great piles of lava sticking up through the snow, yet I feel it is prudent to be especially careful up here. So I returned by a wide detour to the east, simply choosing the easiest route (i.e. where the snow was least interrupted by lava) & the gentlest gradient. I wasn't map-reading but merely going by the approximate direction (given by my shadow) & the large-scale lie of the land, & in typical Yobo fashion I regained the edge of the cliff above Mokuaweoweo only a short distance south of the hut. Although my improvised face mask was somewhat of an irritation it did not conceal what a remarkable place this is – this vast area all snow-covered apart from projecting lava blocks, odd spatter & cinder cones etc, all about 13,000 feet; the whole view has a starkness and unreality about it which is difficult to describe: the brilliant blue of the firmament above (exaggerated by my polarising dark glasses, not that any exaggeration is needed) and the blinding white of this vast expanse of snow beneath, punctuated in a seemingly infinite number of places by apparently jet black lava silhouettes. And there is Y, the only living soul in this world, so seemingly remote & yet only a few days' journey from Cambridge, & he is leaving his all-too-characteristic tracks all over it!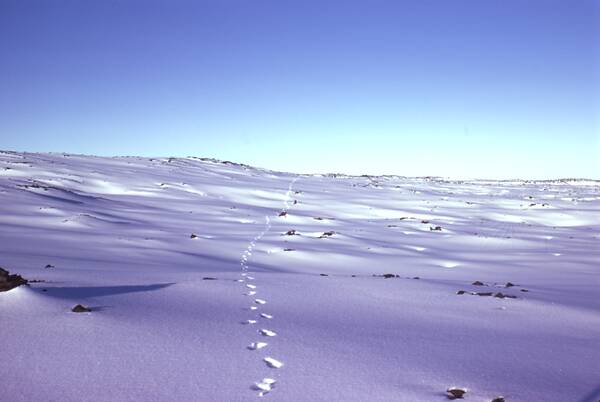 The sunshine has warmed the hut quite a bit today in the virtual absence of wind, & the thermometer stands now (16h30m) at 47°F. Quite soon the sun will set & with incredible rapidity it will be night; too bad the moon will dominate the sky until about 3am. Tonight I will sleep outside so that I can see the sky without getting out of bed. As far as I can tell I am perfectly well adjusted to the altitude now. However I haven't decided whether to go on to Mauna Kea – if it were a scorchingly sunny & windless day like today the sunburn problem would be impossible. I'll see how things go, & meanwhile I'm enjoying just living here & doing nothing except going for a short walk now & again to see the sights.
December 6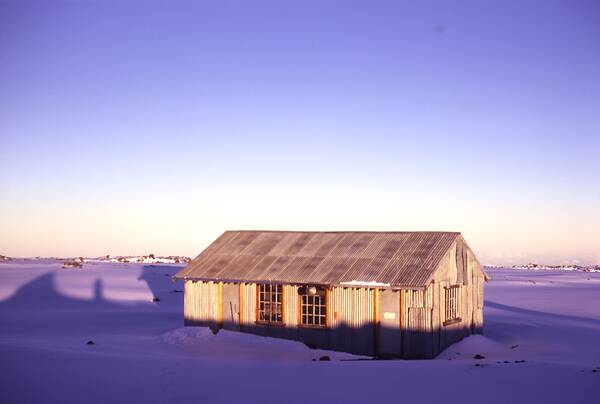 Another marvellously clear day, with the keen wind back again. Last night I slept outside, putting my tent down as a groundsheet. I wasn't too comfortable, partly because I had a container of water & the camera in the sack with me & partly because it was a cold night. There's hardly room in the bag for largish objects as well as oneself; I thought I might want the camera at dawn (but didn't) & I knew I'd want a drink during the night because it is a rather drying place here. In fact I had a couple of drinks out of my plastic container & then I left it outside the bag & the rest of the water froze solid & is solid yet. The temperature was down to 19°F but then I clumsily broke the thermometer! The bag is comfortable enough at that temperature but only when it's properly done up – not if you want your head out to see what's going on. Moreover the wind got up during the night, from the NE, & I was lying with my feet to the south because that is the orientation I understand for the sky! One of the maxims from Athenaeum Enterprises days is to sleep with one's feet to the wind! Another, which I had temporarily forgotten – shows how long it is since I slept out – is to turn one's shoes over so the frost forms only on the outside! Actually, although a good frost formed in the evening, when the wind got up it evaporated it again – which goes to show how dry it is here. Well, anyway, I had a good look at the sky, which was indeed a superb sky. Curiously enough, it didn't look very good as long as the moon was up – it was lighter than the typical moonlit sky at Palomar. I think this may be because I was in the middle of a huge area of snow-covered ground which served to intensify the moonlight. I could see no comet; something bright rose shortly before the Sun – I suppose it was Mercury.
Even when one is an astronomer the sight of the sky in these surroundings is enough to make one think. Even the relatively trivial volcanic eruption I saw last week is nonetheless an awe-inspiring demonstration of the forces of nature; how much more so is the existence of this mighty volcanic pile on which I am, to say nothing of the energy generation in stars? There is an elemental remoteness about sleeping out here: a lone soul on a supposedly tropical island yet lying on iron-frozen snow with the cold of outer space above (though in truth outer space doesn't suffer the same keen wind!). The Psalmist as usual puts it ten times better than one could oneself… 'When I consider thy heavens, the work of thy fingers, the moon & the stars, which thou hast ordained; What is man, that thou art mindful of him?'
Today I thought to go down onto the floor of Mokuaweoweo by means of the trail to North Bay, & perhaps to walk the length of the floor to the 1940 cone near the south end. However, I gave it up soon after starting across the floor of the caldera, because it didn't seem any too safe. The snow there is very patchy, partly because none of the floor is more than a few decades old & it still has internal heat – indeed it steams in numerous places in the evenings – & the lava is very broken & full of voids. When you can see the lava that's all right, & when the whole lot is covered with a thick layer of snow which itself will take one's weight – the situation on my walks of the last two days – that's better still; but where alternate steps are on soft snow which may conceal a nasty hole, that's where common sense says not to start out on a hike of a couple of miles each way when there's nobody about to see if you get into trouble.
My sunburn doesn't hurt any more – at least it doesn't hurt me & there's nobody to have to look at me here. But I'm not letting the sun see me again for a while, all the same! I improved my sunshade today & it no longer caused me any bother.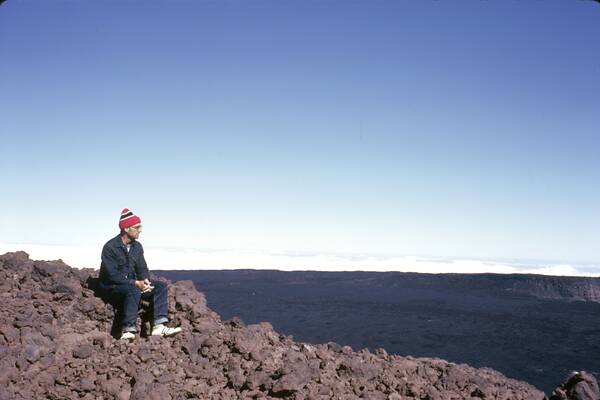 Do you know, it's five days since I've seen anyone? – must be the longest spell since my Mummy brought me forth. And yet, if you'll forgive my saying so, I haven't minded at all – in fact I am enjoying it. It is very lucky really to have had this place to oneself – there might have been a load of drug-taking hippies, as indeed is recorded more or less in so many words in the book here, but on the whole such people come at more seasonable times of year. I feel perfectly well & fit; the system does not notice the altitude at all now – my resting pulse rate is down to 50. It is noticeable that one effect of getting used to the altitude is increased susceptibility to the cold: when you first arrive the system sees that something is up (forgive pun!) & makes an effort to come to terms with it empirically by stepping up the circulation; but then it makes a longer-term readjustment that does not call for such an ad-hoc expedient & one consequently has to take more notice of the temperature. Just now the thermometer (the place's thermometer, mine is R.I.P.) shows 37°F in the hut & 29° outside – & this on a day which has seen more, & more intense, sunshine than you'd see in a month in Cambridge! I am sitting fully wrapped up but my hands are getting chilled & soon I must either go for a walk or get into the sack.
December 7
I opted for the walk. The Sun was low & I dared to go out with my face-bandage off. It was the first perfectly clear evening I've had here & I just went out to the east, down the hill as it were. It shelves only very gently – it's nearly two miles before it's dropped 500 feet, & evidently the surface is rather smooth because it's an almost unbroken expanse of snow. This great plateau, so nearly level, prevents one from seeing the rest of the island – you just see the tops of the clouds, and when they decay in the evening the next thing beyond the snow-covered plateau is the blue Pacific and the indefinite horizon some incredible distance away. I simply walked, fully dressed up on this very cold evening, perhaps a mile down the plateau slope, convinced myself that there was another exactly similar horizon another mile away to stop me seeing down to Kilauea, & walked back. Although you might think it tame compared with walking round the cliff edge, in some way it was the most beautiful hike I've had: the perfection of the sky and the vastness of the untrodden expanse of snow, so remote from the ocean beyond; the low Sun lighting the undulations of the snow in a pattern of shading too delicate to describe; it was an experience that can only be experienced.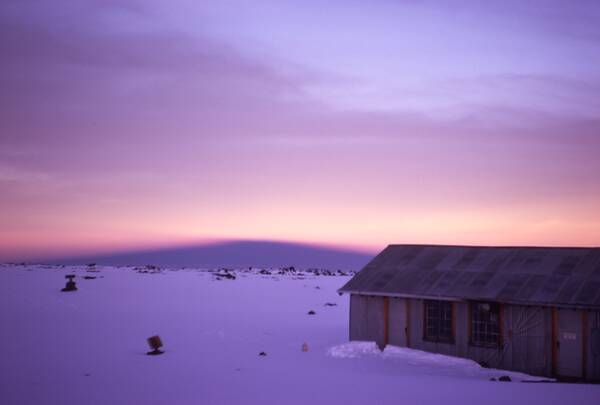 With such a perfect sky there was a perfect Earth shadow, one of which Minnaert himself would have been proud; and I stood & watched it until it was practically dark. The temperature inside the hut soon fell to 24°; what it got to during the night I don't know, but it froze all the water.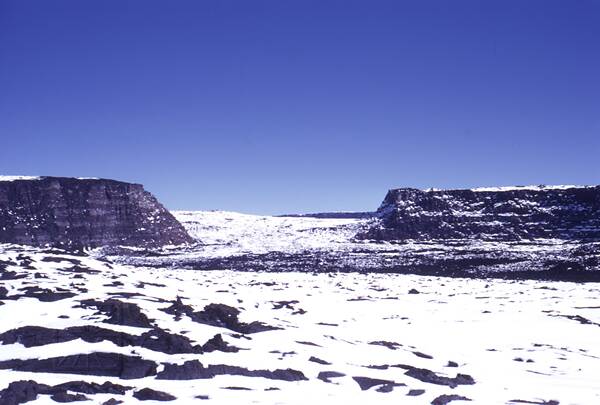 Today has been almost windless. I am sitting writing just ordinarily dressed & the thermometer shows 54°; even outside it is 35° and the snow is soft like the day I came here. I walked right around Mokuaweoweo today. First I went down to the far end of South Pit and along the beach where the wall of the crater is down to zero height; then up the relatively steep slope of the west wall of South Pit & of the main crater to the summit of the 1949 cone – a great pile of pumice. This ascent of about 400 feet took no more than 15 minutes & I might have been at sea level for all the effect it had on me. I was half hoping to be able to descend to the crater floor by the slopes of the 1949 cone which is at the crater's edge, in order to visit the 1940 cone which is close by but quite separated from the crater wall. However, the slopes into the crater were too steep for safety. Accordingly I continued along the edge of the increasingly high cliff till I reached the summit, where this time I remembered to collect the piece of lava you asked for; and then I returned home along the now-familiar route by North Bay. The walk of just on ten miles took about 3¾ hours; I was in no hurry except that I deliberately walked at a smart pace from North Bay & that took 35 minutes. It's a pity one does not feel so eager when one first arrives!
Every day a bit of cumulus-type cloud hangs, mainly below this level, to the SW of the mountain. Today I could see where it came from: a strip of cloud is continuously drawn from the cloud sheet to the west, where the cloud-top level is about 8,000 feet, & is drawn anticlockwise, spiralling up around Mauna Loa to be dissipated approximately south of the crater and just above crater level. This afternoon the cloud has made a rather more determined attack than before and was visible in several directions, & at one time a little of it poured over the west wall into the crater.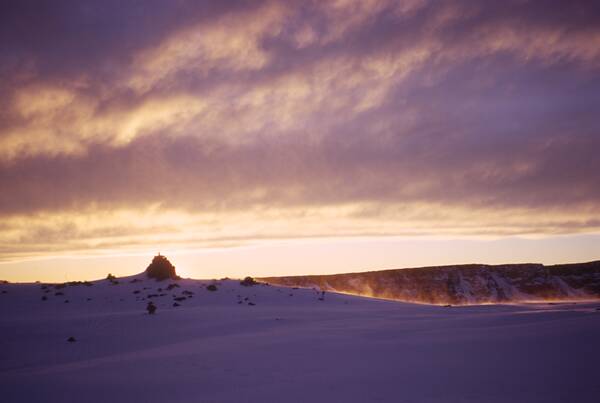 This afternoon I have tidied up the cabin, swept it out, & cleaned up & washed generally. The condition was not too bad when I arrived; and for most people spending just one night here the whole thing is something of an emergency so it's no wonder that they skimp the washing up etc. Considering the Park Service charges nothing for the use of its cabins, a bit of tidying up does not represent excessive generosity on my part, does it? Tomorrow morning (Sat.) I am starting for the Saddle Road. There is a 6-mile trail to an alleged weather observatory at 11,000 feet on the north slope of the mountain. It seems unknown whether the place is manned, but it is certain that staff do drive to the place up a 17-mile track from the Saddle Road. It is also unknown whether the track is open to the public. If so I might get a ride down. I don't feel any real need to walk all the way to Mauna Kea; conceivably I could get there with assistance tomorrow night & then I might get back to Pasadena by Monday morning. Failing that I may return to Pasadena without going to Mauna Kea or I might get there by Sunday night on my own feet, but must certainly get the 'plane from Hilo no later than Monday evening. We'll just have to see what tomorrow brings.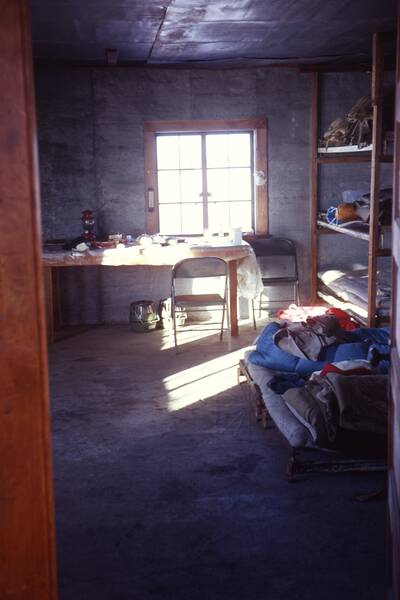 December 8
Now we see what the morrow brings – the fickle element doesn't like me to go anywhere! The curious afternoon-cloud spread out suspiciously yesterday evening into a level layer with its top just at 13,000 feet. I went on an evening promenade like that of the previous evening & walked right to the edge of the cloud. I tried to photograph a not-very-good glory that was visible at one time in the cloud; it was really too late in the evening for a glory because the sun was just about to set. There were nasty cumulonimbus clouds over towards Mauna Kea.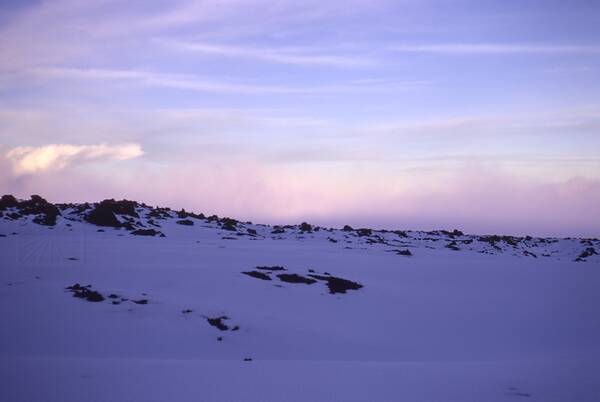 This morning I woke at dawn & intended to make a fairly prompt start. There was a dark grey pall of cloud just above the mountain level, although one could see out under it to the south and east to where there was blue sky above a disturbed cloud-scape. I didn't like the look of it but made preparations to leave so that all would be ready if the weather seemed to relent. However, at 7.30 another layer of cloud spilled over the west wall of Mokuaweoweo & soon visiblity was down to 100 yards; this quite made up my mind to stay here in the cabin for the time being, although I know the route as far as North Bay well enough that I could get that far even in bad conditions. The temperature was 23°F, the wind averaging about 30 mph from the east; soon a blizzard came on & continued most of the morning. Now (13h) it has stopped & the cloud has lifted above mountain level. There is only about 2 inches of fresh snow; I can see Mauna Kea again & the whole mountain down as far as I can see it over North Bay – perhaps to 10,000 feet elevation – is covered with new snow. I have spent the morning very comfortably more or less asleep in the sack. The weather doesn't look very threatening now, and if I were very anxious to move I could now reasonably set out for Puu Ulaula which I could probably reach in about four hours if I pushed along. However I don't really want to go out that way: even if I forget about Mauna Kea the way to the Saddle Road is scarcely longer than to the trail head on the Mauna Loa Strip Road, & the Saddle Road is a much more direct (and, I presume, frequented) route to Hilo. So I am staying put & having a lazy day.
This cabin is anything but draught-proof, & during the blizzard powder snow came in in umpteen places along with the draught. There is of course no possibility of the snow melting here but it says much for the inherent dryness of the air that much of what came in has already evaporated again!
17h – yes, I could have got to Puu Ulaula, but it would have been a draughty hike. The cloud has thinned & risen, but the wind has risen too – it is gusting to 60 mph or more & blowing the drift along like anything. The temperature is 17°F outside, 21°F inside the cabin. Although there is still cloud, the weather doesn't look particularly bad or threatening now – there's merely a strong cold wind.
Pasadena, December 10
As you see, I am back again. A lot of things happened yesterday. It was a nice fine morning & I set out at 8am, temperature 20°F, wind 30mph. It took me only 37 minutes to North Bay, by which time I was nice & warm & had to shed some clothing; then the trail to the weather observatory, which is not really a trail at all but a scramble marked by yellow paint hidden under the snow, occupied me till about 10.40. There is in fact a paved road of sorts right up to the weather observatory & there were about a dozen cars there, so I knew it would be only a matter of time before someone offered me a ride. I had only walked about two of the 17 miles to the Saddle Road before I was given a ride the rest of the way in the back of a pickup truck. There were three bonny children with their parents in the cab & the children had a great time staring at me because my sunburn was in its most unsightly stage! At just noon I was down at the Saddle, & so I started up the Mauna Kea road which was almost opposite. After about half an hour I got a ride up to just above Hale Pohaku (9200 feet) with two young men & the girl friend of one of them. The road got too steep & loose for the car at the point where they had to stop – in fact it is only supposed to be passable for 4-wheel-drive vehicles from Hale Pohaku upwards. Hale Pohaku is just a few huts where the observatory sleeping quarters are. Then events got rather beyond my control! The three I was with were evidently bent on getting up to the snow & so we all four started to walk. The girl was the slowest of the four, & she & her boy were perhaps 20 yards behind the other fellow & myself when they got a ride in a sort of jeep. Then the jeep stopped for us, although already jammed full of people, & we were given a ride on the front bumper! Now that was very nice & all that, but in the first place it was quite an effort to hold one's legs out so that they didn't touch the road, which is fantastically steep & bumpy, & secondly one had to hold on for all one was worth while rapidly getting frozen! Dress which is all right for walking up a steep hill at 10,000 feet is not all right for riding on the front bumper of a jeep in a very strong freezing wind at 13,000 feet! The jeep people stopped at a steep snow slope which they had come to slide down, & the three I had been with stayed with them. We were about ¾ mile short of the observatory & the summit; the road there, characteristically, was blocked by snow. I should explain that the summit area of Mauna Kea is quite different from that of Mauna Loa. From Mauna Loa it looks small but of course when you get there it isn't. There is a summit plateu at perhaps 12500–13000 feet & maybe a mile & a half in diameter and from it rise several steep-sided cinder cones several hundred feet high. The whole summit area was snow covered. I started to walk towards the observatory; I was already very cold from my ride on the jeep. Another fellow said was I going there & he would come with me, & he was dressed worse than I was for the cold but claimed he practised Yoga & didn't feel the cold! The wind was absolutely terrific on the summit cone where the 88-inch is – it must have been at least 60mph. The fact was we were both pretty well frozen when we got to the 88-inch dome. We went into the visitors' gallery, from which we could see someone in what looked like a computer room. We then found a door unlocked which shouldn't have been & made ourselves at home & went to see this bloke who I think said his name was Dave Hanwell – anyway he was some sort of technical assistant. He said nobody would be observing because (a) the road was blocked and (b) the wind was far too strong. He himself was going down shortly, being met where the road was blocked; it meant walking that far – only about half a mile – he seemed very apprehensive notwithstanding that he was dressed in a sort of quilted boiler suit & starting perfectly warm! He was touchingly anxious about us; of course I really had some warm clothing with me – it was just that it was in my pack & I hadn't had an opportunity really to get it out when I needed it – & he found some things to lend this other fellow. Well I know I had intended to camp on the summit but anyway I changed my mind – I was already practically frozen stiff & I should have been obliged to stay in the sack the whole time I was there so I decided that I had quite definitely seen all I wanted to of Mauna Kea in the circumstances & would go down with the other two to Hale Pohaku. There was a lot of cloud around the mountain but I think I did contrive to take a few pictures.
Mauna Kea isn't nearly as nice as Mauna Loa – there are too many people, and the road. On Mauna Loa there is just lava & snow; my white shoes kept themselves brilliant white all the time I was there. The dirt road on Mauna Kea is dirty, & the dirty snow ploughed off it melts because the dirt makes it dark-coloured, & the slush mixes with the dirty road & makes slushy mud – really it isn't the same thing at all. Really it would have been nicer just to have been contented with my super holiday on Mauna Loa & gone straight down to Hilo!
So this assistant got us down to Hale Pohaku, & the two of us hitched a ride down to the Saddle Road again. It was 17h – I could hardly believe so much had happened in the five hours since I was there before – but then I had got used to a slower pace of life in the previous week! I soon got a ride down to Hilo, where I was deposited with typical Hawaian aloha right at the aerodrome. My sunburn looked terrible & I tried to improve matters a bit by washing off whatever would come off! I had about two hours to wait for a flight. It was a 747 which went to Honolulu first. There were only 11 passengers to Honolulu!! but I supposed they would pick up one or two hundred more there & go on to LA. But no, at Honolulu they stopped & we had to get out & wait 1½ hours on the ground & then board a different 'plane! It's really ridiculous – four airlines fly at practically identical times from Honolulu to LA. There were perhaps 80-100 people on my 747; it left at 11.30 & arrived at 6.20 PST (4.20 really by my time) so it was a short-overnight flight. I lay down & went absolutely fast asleep – something I usually can't do on a 'plane; I only woke up when the cabin pressure was increased as we descended to LA. I reached the Pasadena Hilton at 8, went to Chef's for breakfast & then to the Anathema where I soaked in a bath for a long time & managed to get myself to look as if I'd merely got severe sunburn! So there are my doings up to date. Probably I'll be home as soon as this letter: I saw Michael Penston this afternoon & asked him to 'phone you to say I've got back here – he's flying home tonight.
There – what a long letter! I'll xerox it for my Mum & hope you don't mind – can't write it all out again & a summary wouldn't be as good.
Lots of love to you both, from YOGI/Daddy.