!ATTLIST link sizes CDATA #IMPLIED> ]>
SQUAREWHEELS

.org.uk


Miscellaneous motor-racing photos
This page last modified on 16 July 2008.
At the 1996 Goodwood Festival of Speed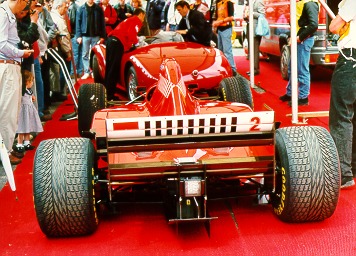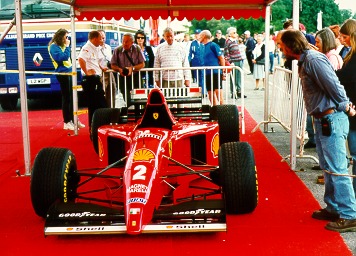 Eddie Irvine didn't run in the car until the following day, so I only know what I read in the press; he didn't get up the hillclimb particularly fast, but impressed a lot of people all the same. On his second timed run on the final day, he tried to repeat his feat of leaving a 100-metre wheelspin mark, but as he did so a driveshaft broke, ending the car's running for that outing. A bit topical, commented Eddie: Michael Schumacher had retired from the previous weekend's Canadian Grand Prix with a broken driveshaft!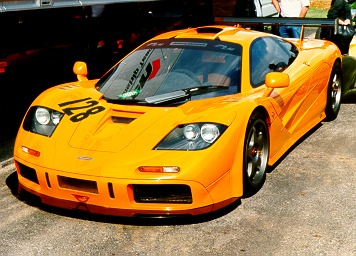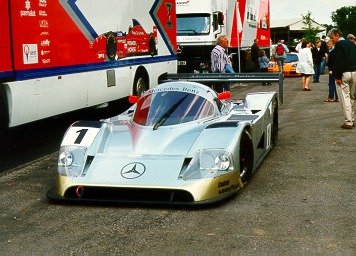 Silverstone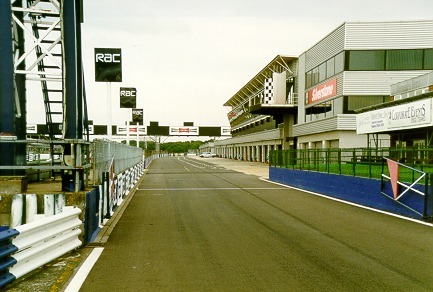 Not a special picture by itself, but it's not very often that I get a chance to stand in the pit entry road at Silverstone and see nobody about at all!
Silverstone cycling anecdote
I once managed to get my bicycle onto the Grand Prix circuit for long enough to complete a lap; it was on 11 July 1997, the Friday evening of the British Grand Prix weekend, after the racing action had finished.
The grid-markings were being painted, the parades practiced, and timing-sensors checked. My lap—3.194 miles at the time, starting and finishing in what would the following day become Jacques Villeneuve's pole-position spot—took me 9 minutes 50 seconds (average 19.5 mph). Villeneuve took 1′21.598″, an average of 140.9 mph: there again he had about 700 horses, I had none!
There happened to be a chap taking a mini-motorbike round the circuit at the same time as me; his machine would do about 20mph at all times, which meant I struggled to keep up with him up the rise to Maggotts, sailed comfortably ahead of him down Hangar Straight and to the lowest point at Club, but thereafter got caught by him up the noticeable climb through Abbey and past Bridge to the complex at the end of the lap.
It was a lovely evening, spoilt only by my failure to take sufficient care of myself and eat some proper supper: as I cycled back home to Oxford—a round trip of exactly 60 miles—I 'blew up' after passing Bicester and trundled very shakily the rest of the way home through Merton, Islip and Woodeaton, involuntarily falling asleep for brief moments and having to keep stopping. When I finally made it home at 10pm, my mother opened the door and I sort-of collapsed with bike in a heap at her feet!
On the next couple of years when I also rode to Silverstone to see qualifying days, I made a point of stopping off on the way back for fish & chips at the Happy House in Bicester!