!ATTLIST link sizes CDATA #IMPLIED> ]>
SQUAREWHEELS

.org.uk


Imola 1994
This page describes, in recollections, diary-entries, newspaper-cuttings, video- and sound-recordings, how the events at Imola 1994 unfolded for one impressionable teenager, and how they affected him.
I remember Ayrton Senna, and it seems terrible to have to use those words… — Murray Walker, 1 May 1994
Ayrton Senna was the most dedicated racing-driver I have ever met … He lived to drive. And he died driving. — Jackie Stewart, May 1994
One of the bleakest weekends that world motorsport has ever seen: a catalogue of tragedy and disaster. — Steve Rider, 1 May 1994 before Senna's death was announced
I have absolutely no desire to get into a racing car. We were supposed to test yesterday for Monaco, but I didn't want to do it. I don't think that I'm ready yet … I've always raced with my heart. I've lived for it my whole life, but if my feelings tell me I'm unable to take the risks any more, I'll quit. — Gerhard Berger, 8 May 1994
This page was written in late April 2014, and
last modified on 28 August 2015
Background
I was at boarding-school in 1994, studying for my A-levels. It was the second year that I had properly followed Formula One motor racing, or F1, and the unknowns presented by Ayrton Senna's move to the championship-winning Williams team were tremendously exciting. Ayrton was the only F1 World Champion in the whole field, and was partnered with Damon Hill who had proved his speed and talent against Alain Prost in 1993.
As everyone knows, things hadn't gone very well in the Williams camp in those first two races of the season, with Ayrton failing to finish either race. Michael Schumacher seemed to be going better than ever in the Benetton (as I had predicted!) but Ayrton and others suspected he and his team were cheating.
Paradoxically, perhaps, I sometimes had more opportunity to keep up with all things F1 when at school rather than during the holidays, because at home we had no TV nor any newspapers (my godmother's house and TV was much visited, however!). I'd followed the Brazillian GP of 27 March, listening to BBC Radio 5 in its final hours before "5 Live" was launched, via a walkman whilst on the train home from a day out at the Science Museum; the Pacific GP from Aida I'd watched on RTL in the middle of the night at a German scientific-research outpost on a mountain-top in Spain, waking in front of the TV to the strains of the German national anthem which immediately told me that Schumacher had won again.
At school there was access to both TV and newspapers, though getting to watch a Grand Prix or its highlights on a communal TV was often fraught by other boys who wished to watch other programmes. I habitually leafed through the communal newspapers (Times, Independent, I think the Telegraph and the Guardian, sometimes a tabloid) in the library in search of F1-related news; late at night at the end of a day I would retrieve articles of interest and cut them out with my penknife-scissors! Hence my collection of which the items shared on this page are a part.
Now we came to the third race of the season, held at Imola in northern Italy but titled as the San Marino Grand Prix on behalf of the nearby principality.
Practice and qualifying were not normally shown on BBC TV, though I did sometimes have access to Eurosport; usually I waited to see what the papers had to say, or fetched provisional qualifying times down from Ceefax via a terminal in the Science department.
Note: copyright of the original newspapers and TV/radio broadcasts, from which derivatives featured throughout this page have been produced, rests with their originators.
Saturday 30 April 1994
So, it was only when reading the newspapers on Saturday morning, 30 April 1994, that I saw that Rubens Barrichello had had a big crash: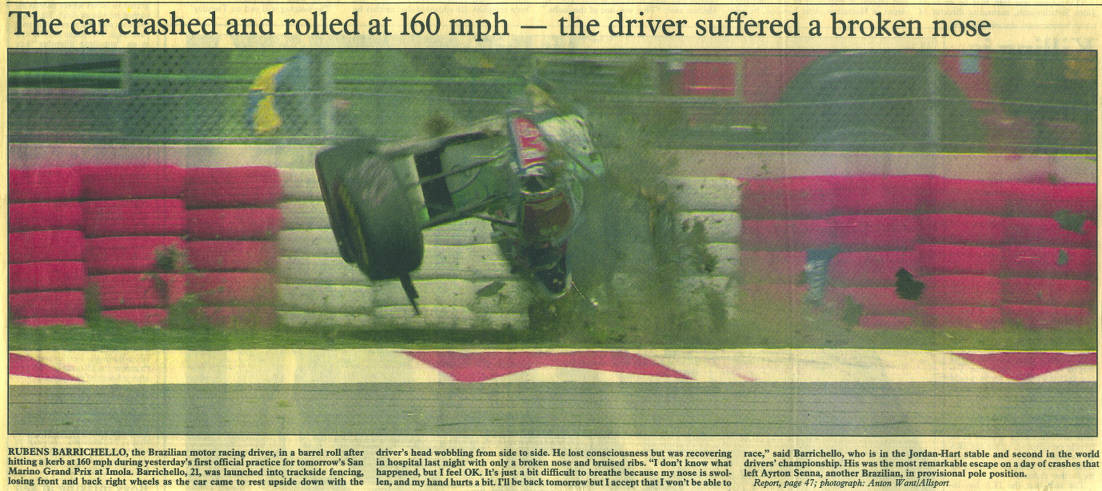 As we would discover only too soon this sort of smug, congratulatory headline would never be written again: the miracles ran out after this crash. Only when I found this other view of it was it really apparent quite how much energy must have been dissipated in the crash: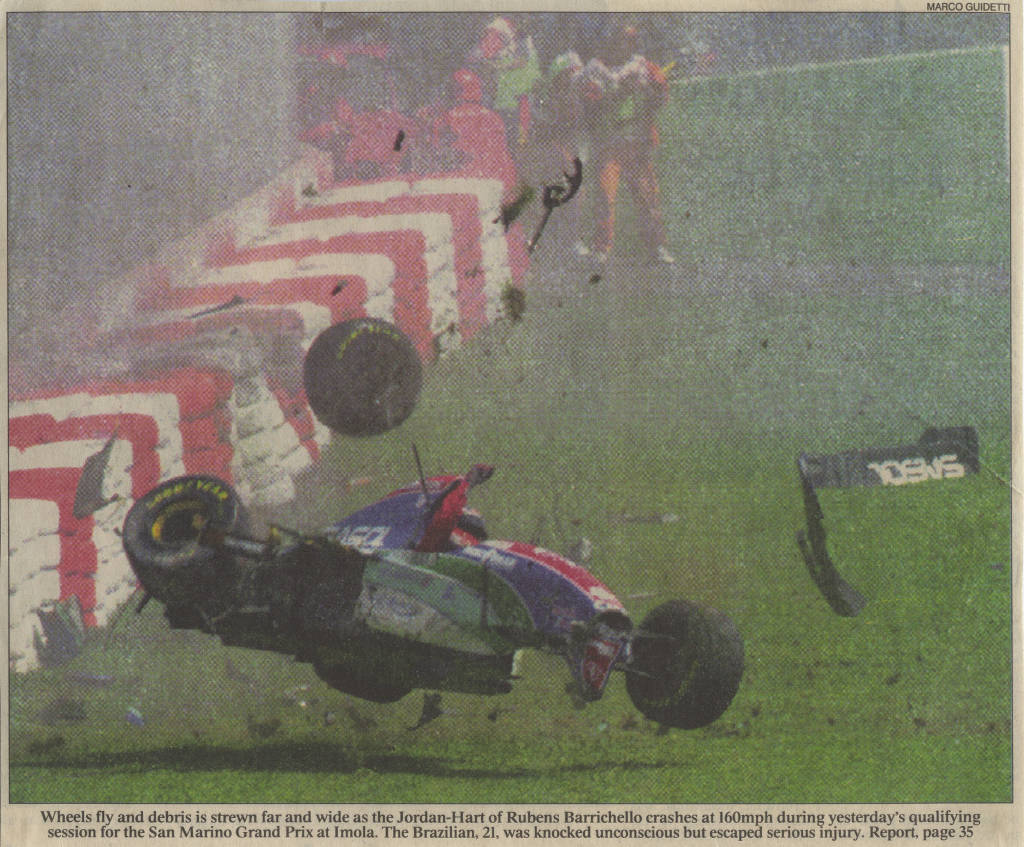 In The Times (alongside), the 21-year-old Barrichello is quoted as being sufficiently OK following his crash that he jokes to reporters that I'm off to play with the nurses now.
The photo shows Senna discussing steering-wheels with his race-engineer David Brown, which may well be related to the discomfort that Ayrton was encountering in the cockpit and which triggered the modification to the steering-column which many suspect of causing his fatal crash.
Senna remarks of Imola that There are no small accidents here, which even the columnist Oliver Holt recognised as having sufficient potential for omen that he placed it as the closing words of the article. Neither Holt nor Senna could ever have guessed at the hideous realisation of that portent that would play out over the next couple of days.
During the course of Saturday morning I paid a visit to my usual haunt at school, Mill—where I could usually bank on borrowing the use of a video-recorder—and set it to record the entire Grand Prix programme the following day.
It was the first weekend of the summer term. Eager to make the most of the longer days, that afternoon I'd taken a packed lunch and gone on a 3-hour bike-ride, the last ride of significance on my old, nth-hand five-speed bike as my new touring-bike was about to be delivered (I would ride across France on it that summer): fittingly, I even equalled my then fastest-ever top speed, 42.9 miles per hour. I enjoyed the springtime air and the Hampshire sunshine, savoured the views from Lane End Down on that clear day, and treated myself to an ice cream when I got back.
In the evening I had been glad to get up to date with various bits of paperwork and even had written my diary, and went to bed at 2350hrs. I recall drifting off to sleep in my bedsit with, as usual, Radio 4 playing into my ear with a Sleep-timer set: it would have been the midnight news.
Suddenly from the first descent into sleep I was woken with a jolt by the realisation of what the midnight news was telling me: that a Formula 1 driver had been killed during qualifying. My nocturnal confusion was furthered by the fact it was a name I did not recognise at all, an Austrian whose name would become widely known almost exclusively, tragically, as a result of his death: Roland Ratzenberger.
Sunday 1 May 1994
Upon waking, quite uncharacteristically I was immediately up, dressed and heading downstairs towards the house library with a distinctly uneasy feeling in the pit of my stomach: I had to know the details of the tragedy whose outline I'd half-heard in the dark last night. Before I could even get there I bumped into Alex, with whom I shared an interest in F1 and who had also heard that a hitherto-unknown driver had died at Imola. He lamented, What is happening?.
The newspaper-headline in the Guardian, coupled with a view of the unsupported helmet of a driver in his destroyed car, made the answer abundantly clear: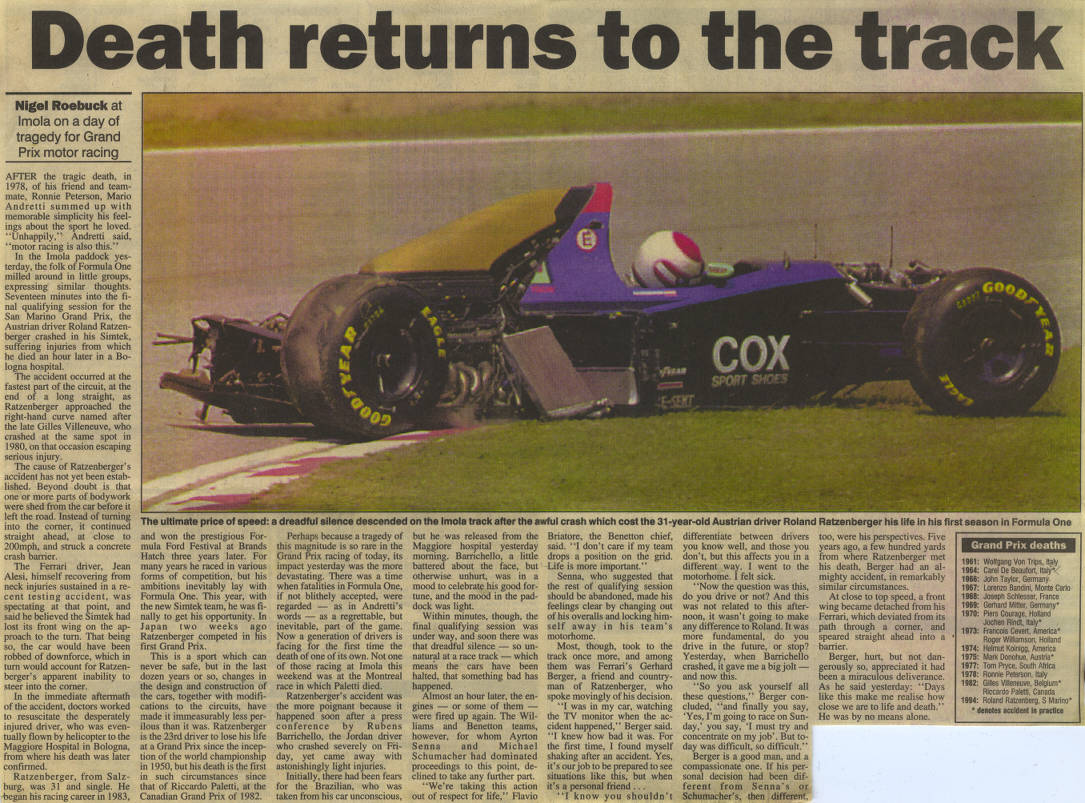 Nigel Roebuck was a writer whose name I associated with the fortnightly race-reports in Autosport magazine (of which more later). In this article he writes sensitively and without sensationalism. Perhaps surprisingly, a quote seems to indicate that Flavio Briatore was putting principles before performance.
The photo accompanying the following article in the Independent is even more shocking: not only is the monocoque survival-cell breached—you can see Roland's left elbow and knee—but the poor man's blood is evident above his visor: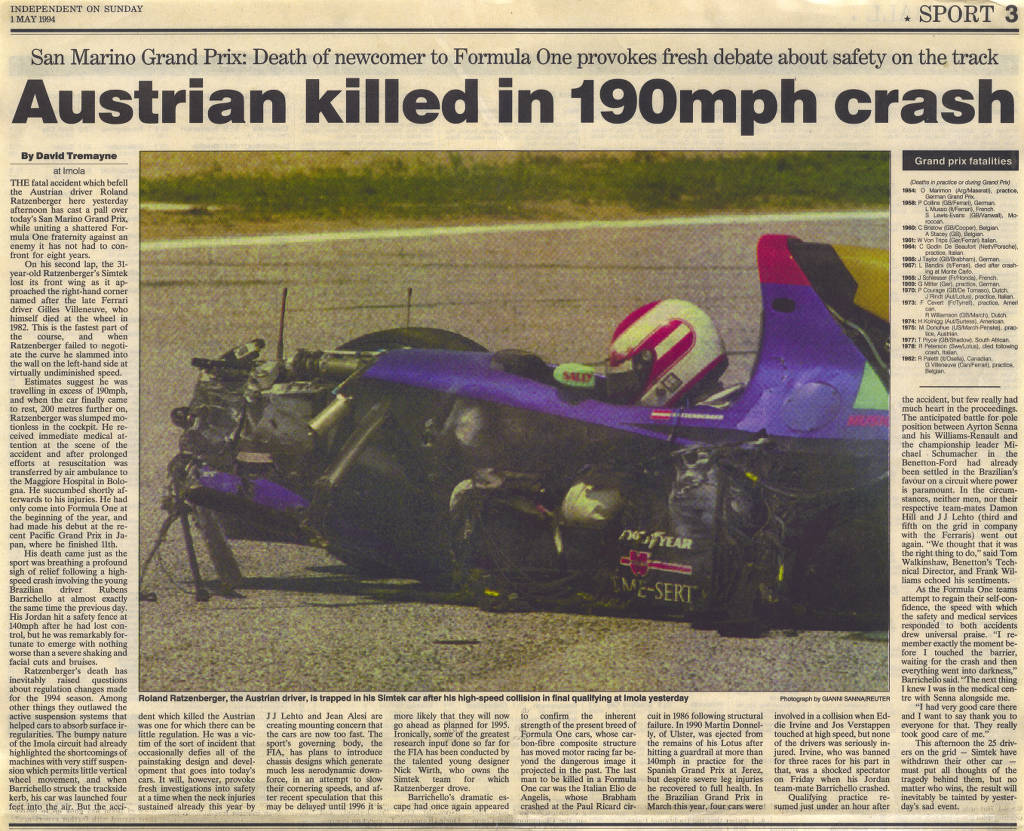 David Tremayne is surely correct in his article above, in stating that the result of the San Marino Grand Prix will inevitably be tainted by Ratzenberger's fatal crash; it is one of the saddest twists of fate that the 1994 San Marino GP would be tainted by an even greater tragedy which all too often tends to eclipse the proper remembrance of Roland.
Race
After chapel I and a few others, including I think Jamie who had introduced me to motor-racing and was visiting, gathered in Alex's bedsit to watch the race on his clandestinely-owned colour TV. I don't much recall what we saw at the time, but have since seen many times the programme recorded on my videotape in Mill.
Sunday Grandstand was hosted by Sue Barker who was very new at the BBC; for the first time, the BBC had its own broadcast-facilities at a Grand Prix (other than at Silverstone, presumably) and so Steve Rider introduced the Grand Prix programme live from Imola. The pre-race coverage is already to be found on YouTube. There was some slightly sombre, downbeat introduction to camera and a brief interview with Jonathan Palmer; but from then on it was firmly talk of normal things, racing matters—as if F1 would just take Ratzenberger's death in its stride and the show would go on.
The show would have other ideas, of course.
On the video are interviews with Schumacher and Senna, videotaped ones from Thursday or Friday which were spliced together so that segments from each are interwoven. Senna presents a philosophical outlook, stating that Basically our championship starts here: fourteen races, not sixteen, and Murray Walker enquires by way of a statement,
Now you've won here three times already, you really do need to make it four?
Senna's response, I would love to, and the look in his eyes at that point, would still have the power to haunt me months later.
Just before the race started, it was 1pm local time in the UK and so time for house lunch—a semi-formal ritual even on Sundays which could not be missed on an ad-hoc basis. (Subsequently I would sneakily order myself a packed lunch and so be legitimately absent, on purpose to go and watch such 1pm-start Grands Prix uninterrupted!)
And so it was nearly twenty to two when we ran upstairs back to Alex's bedsit to watch the race which must by then be some 15 to 20 laps old. Except it wasn't: there was no racing taking place at all, but we were watching a replay from on board Schumacher's car, the footage was rolling slowly forwards and backwards in the Tamburello, although exactly why was unclear.
Only by gradual revelation of the context did it become apparent to us that it was a crash by Senna's car which had stopped the race; he had already been removed by helicopter just as we ran upstairs, the grid was now re-forming, and so we did not fully comprehend the gravity of what had taken place.
Thus I had no reason to fear that Senna was seriously or critically injured. Indeed I remember thinking, not only was it most unlike Senna to have had a serious 'off', but the instinctive, automatic thought that it's Senna, so of course he's all right.
Only on replaying the video many years later with rather greater knowledge, and seeing the segment we missed during lunch, would it be apparent that more than one of the doctors carrying or accompanying Ayrton to the helicopter visibly have red on their knees from where they knelt in the pool of his blood (see white-helmeted man in screenshot below).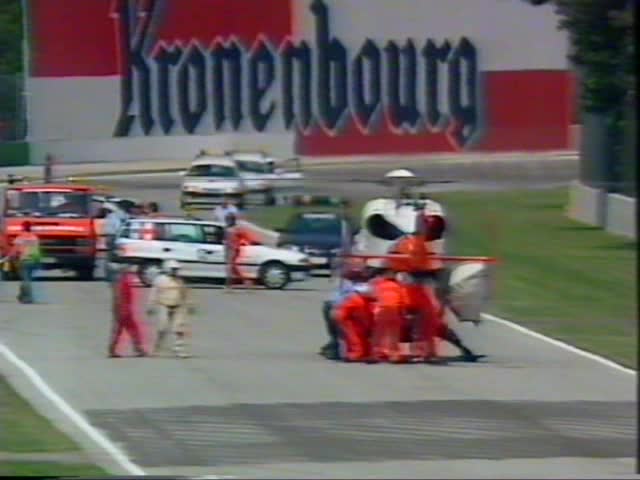 The BBC's own broadcast-unit was on the pitwall at this time, producing local images of the pitlane. Johnny Herbert was standing beneath a Lotus umbrella on the pitwall and winces as he sees the wreckage of the Williams-Renault being brought back past on its way to a secure garage.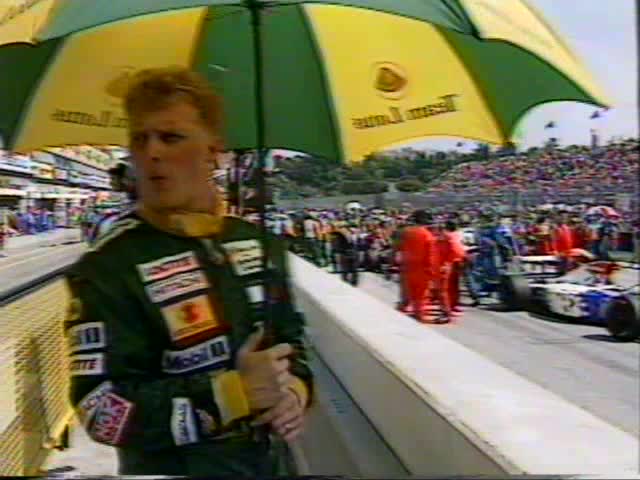 For some reason, after the race had restarted I decided to rush over to Mill, expecting to watch the end of the race there. To my surprise the classroom area there was full of pupils: Andy, the head of department, was supervising detention there instead of in the usual location. Worse, I could see through the window in the door that the video-machine had been switched off at the wall; it transpired Andy had done this, unaware that it was set to record, at about 1345. My recording therefore cuts back in at around lap 39.
By chance, as soon as the recording resumes, we hear the voice of Steve Rider with a medical update which concludes with news of Senna, saying simply:
Ayrton Senna's condition (is) extremely grave.
Murray Walker's commentary is entirely devoid of its usual zest and firey delivery:
And with about 19 laps to go now the San Marino comes to a close, which I'm sorry to say everybody will be very glad to see. It has been a most unhappy meeting in so many ways…
His commentary, most uncharacteristically, becomes even flatter and more punctuated by sighing and a downbeat feeling of hopelessness once Michele Alboreto loses a wheel whilst driving out of the pits, injuring four mechanics:
Now this is the last thing the San Marino Grand Prix needs… I'm guessing, but it wouldn't surprise me at all in view of the way this race has gone and the chaos in the pit lane, and the fact that there's a stretcher there, to see the race stopped. It's run the mandatory distance of three-quarters in order to enable full World Championship points to be awarded, although that is a bit irrelevant now too. And I wouldn't be at all surprised to see the red flags come out to stop one of the most unhappy races it has been my ill fortune to watch in my entire Grand Prix viewing career.
There was a little light relief near the end when the veteran Italian driver Andrea de Cesaris dropped his Jordan harmlessly into the wall, causing Jonathan Palmer to say in his commentary,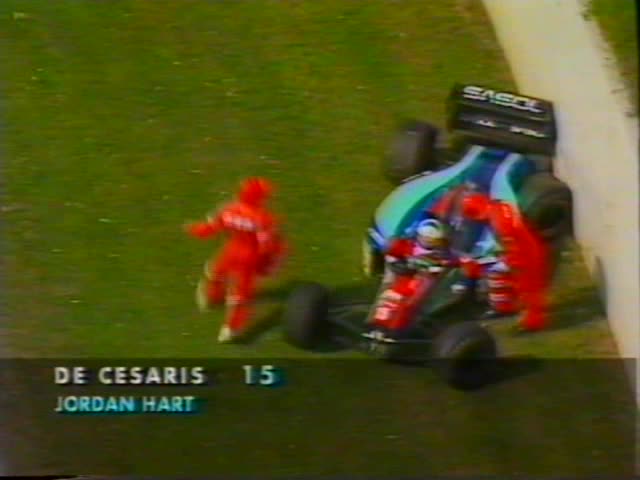 Interestingly, de Cesaris is the most experienced driver in Grand Prix, although you wouldn't believe it looking at that: he's finished—or certainly started—190 Grands Prix in his career.
(Michele Alboreto and Andrea de Cesaris have each since lost their lives in accidents.)
As Schumacher comes up to the finish-line, the commentary-team gave their summaries:
Jonathan Palmer: It's not been anything other than a dreadful weekend for everybody involved, and it's going to be a major black mark on Formula 1, or certainly in the history-books, for a long time.
Murray Walker: Michael Schumacher comes down to the Rivazza for the fifty-eighth time, and he's nearly a minute now ahead of the second-placed man, as he comes home certainly to win, commandingly—and with a great deal of credit in very difficult circumstances—his third successive Grand Prix. He exits the Traguardo, and the 1994 San Marino Grand Prix has been won by Michael Schumacher, but in circumstances that I am sure he will not be at all happy about—and that is no reflection on him, his ability or his car.
Well, there's no point in trying to pretend that it has been anything other than a very, very unhappy San Marino Grand Prix weekend.
Summing-up the race
The coverage of the Grand Prix ended with Steve Rider making a short summary to camera from the pitwall: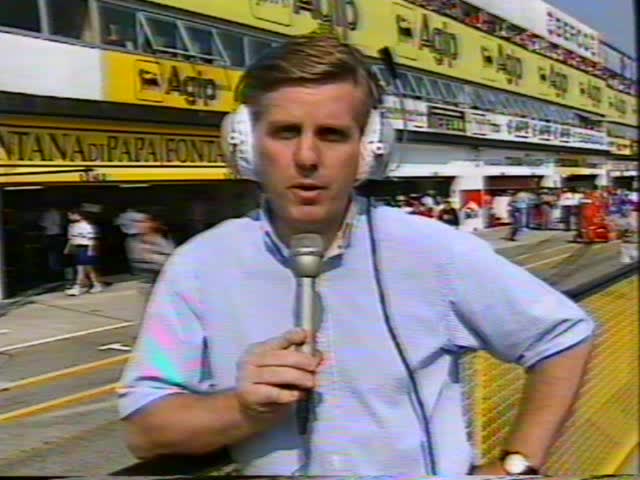 And that's the 1994 San Marino Grand Prix. The history-books will show that victory for Michael Schumacher, but it will also record one of the bleakest weekends that world motorsport has ever seen: a catalogue of tragedy and disaster. We had the death of the Austrian Roland Ratzenberger yesterday; the afternoon here began with a start-line accident, a tyre into the crowd, although the injuries there we understand were slight; we've had a rogue tyre down the pitlane, we don't yet know the extent of the injuries there.
But we've also got Ayrton Senna, one of the greatest talents that Formula 1 has ever seen, currently lying in a Bologna hospital, in a coma with what's reported to be grave head-injuries.
As you can imagine, nobody wants to volunteer an opinion or an emotion down the pitlane here until the time is absolutely right; and the time certainly isn't right now, we're not going to push them into that. Suffice to say that when it is appropriate, we'll have further details from Imola before the end of the of the programme. Now back to London.
In a coma with grave head-injuries, he said.
Even then it didn't sink in: not really. I subsequently went back to Mill, and I remember speaking in anguished tones with Gerald Penney who took an interest in F1; I wondered aloud to him whether Senna would miss some races, whether he'd race again this year. I got Gerald to record the BBC highlights (see below) on his video-recorder, in case my attempts to record it in Mill got thwarted by Andy again.
Sunday evening
Through the late afternoon and into the evening, I was back in my bedsit listening to the radio, and becoming more agitated. The news-reports on 5 Live seemed to imply that Senna was critically injured. Eventually they announced that he was 'clinically dead': did that mean he was really dead, or not? Could he still be saved? (Many years later I would understand that it referred to the situation as described shortly, in which he was brain-dead but that his circulation was being maintained by a machine.)
In a state of confusion and disbelief I found a cassette-tape and recorded the 6pm BBC Radio 4 news, and to this day feel a sense of foreboding when I hear Brian Perkins' voice begin the first news item:

[Brian Perkins] The three-times Formula One World Champion Ayrton Senna has been pronounced clinically dead after crashing into a concrete wall during the San Marino Grand Prix. The 34-year-old Brazillian was leading when his Williams-Renault left the track. Simon Taylor was commentating for BBC television.
[Simon Taylor, excerpt from live radio-commentary] Well they come past us once again to complete the sixth lap in a great blast of sound, and the gap sixty-eight hundredths of a second, so Senna has gained perhaps just a tenth of a second and Senna's off! Is that Senna off… Ayrton Senna has had a big accident, the car has crashed on the outside of the circuit going down to Villeneuve, there is wreckage all over the road, the Villeneuve corner, and Senna still inside that car as the marshals run towards it, the right wheels both of them torn off the car…
[Brian Perkins] Senna was airlifted to a hospital in Bologna in a deep coma. Doctors said they decided not to operate because his head-injuries were too serious. They said he was being kept alive on a life-support system because of Italian law. We've just had this report from Simon Taylor:
[Simon Taylor] Senna was leading the race when his Williams-Renault failed to take a flat-out left-hand curve and slammed into the retaining-wall at about a hundred-and-sixty-five miles an hour. Two wheels were torn off, and debris flew across the track into the path of the following cars. The race was stopped, and Senna was released from the wreckage by the circuit doctors, who gave him emergency medical attention at the trackside, before he was taken by helicopter to hospital in Bologna. In the last hour, a statement from the hospital has pronounced Senna clinically dead. Senna's accident follows the crash in qualifying yesterday which cost the life of the Austrian driver Roland Ratzenberger. The race was eventually restarted, and Michael Schumacher scored an unchallenged victory for Benetton with Nicola Larini's Ferrari second from Mika Häkkinen's McLaren.
Perkins, whose style of newsreading has always been to my liking, emphasised the d-consonants on "dead" to make it perfectly clear to listeners that they had not mis-heard him. His script, however, was mistaken about Simon Taylor's commentating as it was for BBC Radio Five Live, not BBC television: in any case it is obvious from hearing Simon's first clip that it is a radio commentary.
Given that Senna's actual death was announced at the Maggiore Hospital by Dr. Fiandri at 1840hrs local time (1740 BST), the use of the term "clinically dead" was already 20 minutes out-of-date in these reports, as actual death had already been announced.
As that springtime evening wore on, a couple of other boys came to see me, knowing that I would be able to provide the answer: one was trying to tell the other that Senna was dead, but the other simply refused to believe him. I played the tape and the other—visibly shocked—willingly handed over a fiver he'd just lost in betting that it were not true: such was the incomprehensibility of this awful news.
In a desperate bid to try and make it seem real, I took my fountain-pen and wrote very neatly the words Ayrton Senna is dead. on a piece of paper and pinned it to the house notice-board, with four drawing-pins so that it wouldn't disappear instantly through people re-using a pin for their own notice.
Both in Mill and at Gerald's house, video-recorders duly recorded the BBC's 10-minute round-up of the tragic events at Imola, broadcast in place of the usual 40-minute Grand Prix highlights programme. It was very simply made, no doubt under huge pressure of time.
And yet it is tremendously well done, in the spirit of all that was best about the BBC coverage in those days. Although it was pre-recorded—thanks to the BBC Genome entry for 1 May 1994 we now know the broadcast was at 2110hrs—from the passage of time on Steve Rider's wristwatch and the uninterruptedness of the interviews, it was clearly done in very few takes.
[BBC announcer] It's been a tragic weekend for motor racing. Now on BBC2, instead of the scheduled highlights from the San Marino Grand Prix, Steve Rider reflects on the great loss felt tonight by the racing world.
[BBC Sport logo animation with sound]
[Steve Rider, live to camera] Good evening, if you've tuned in tonight expecting the outstanding race that the San Marino Grand Prix here at Imola promised to be, then I'm sorry, that's not the programme we have for you. Instead, the sport of Formula 1 tonight is in deep mourning. Yesterday we had the loss of Roland Ratzenberger, the first Formula 1 racing fatality for twelve years. And today we've lost arguably the greatest talent of his generation: after a high-speed crash at Tamburello, Ayrton Senna is dead.
[Vision: illustrative VT sequences] Like Ratzenberger yesterday and Barrichello on Friday, it was a violent accident and its cause remains a mystery. There was enormous shock around the circuit, but for a while, there was hope. Senna was seen to move, he required a great deal of attention at the crash site, and was then taken by helicopter to Maggiore hospital in Bologna; and straight into intensive care. And when the first bulletins were issued, the hope started to fade. Senna had grave head-injuries, was in a coma, for a while his heart stopped beating; he was revived, but at six-thirty local time came the news that Senna was clinically dead. The last hope was gone, a great star was lost.
The San Marino Grand Prix weekend had begun with the dramatic accident that Rubens Barrichello miraculously survived with only minor injuries. But the next day the miracles ran out, and Roland Ratzenberger in only his second Grand Prix became the first race-meeting fatality that Formula One had suffered in twelve years; the next was tragically barely 24 hours away. And race-day today had other potential tragedies: at the start Pedro Lamy in the Lotus failed to avoid a stalled JJ Lehto, a tyre flew into the crowd injuring eight spectators, none seriously; both drivers were unhurt. Later in the afternoon a tyre and bodywork flew off Michele Alboreto's Minardi as it sped out of the pit lane; four mechanics—two from Ferrari, two from Lotus—needed hospital treatment.
[Steve Rider, to camera] So it's been a dreadful day, and the loss of Ayrton Senna is really tough to comprehend. He qualified yesterday with his 65th pole position of his career; if he'd gone on to take the victory that everyone predicted, it would have been his 42nd in Grand Prix motor racing. He was three times a winner here at San Marino, he was three times a world champion. Here's the thoughts of our commentary team.
Murray Walker, an overwhelming sense of sadness here today; what kind of talent, what kind of star, has the sport lost today?
[Murray Walker] Well, I can still hardly comprehend that it's happened, Steve. I remember Ayrton Senna—and it seems terrible to have to use those words—as a tremendously intense man who was determined to achieve his goals; he came here as an unknown Brazillian who couldn't speak English, he came to a cold climate, he lived a long way away from home and he applied himself one thousand per cent to his craft, he succeeded in all the categories that he was in until he got to Formula One, he very nearly won a Grand Prix in his first year, he then went on to become a three-times world champion. And as far as I am concerned—and I do see all of them—he was a man who was always courteous, always considerate, always helpful, and he was a man of his word: if you wanted to talk to him, he would say 'Yes, come and see me after qualifying', and you might have to wait a long time, but you always got him. On top of that, he was a tremendously successful businessman, he was much loved by his family and all his friends around him, and it is truly a dreadful dreadful blow to motor sport.
[Steve Rider] You've seen most of the great Grand Prix drivers there have been; where would you place Ayrton Senna among those?
[Murray Walker] Oh, I would er, unhesitating… unhesitatingly place him in the top three, I think I would place him with Nuvolari and with Jim Clark, and I would put Stirling Moss in the same bracket. But you can't speak about many drivers in the same breath as you can Ayrton Senna.
[Steve Rider] How does the sport now handle the loss, if it can? Formula One has… an image problem now?
[Murray Walker] Well (sigh), what I'm going to say, Steve, may sound callous and I don't mean it to. But Grand Prix Racing, motor racing, is an extremely dangerous sport: it always has been, it always will be, it's in the nature of the sport. The drivers who take part in it know that something like this in their heart of hearts could happen to them; they wouldn't do it if they knew it was going to happen to them, but they accept the risks because the passion is worth the risk, and that's what they want to do. And I don't think anything ought to be done to stop them. It's happened in the past: it will happen again. All I can say is that it has happened on this occasion to a truly great man, and although it's a cliché he will be desperately, desperately missed, and Formula One is going to be stunned for the whole of the rest of this season.
[Steve Rider] Jonathan Palmer, amid all the great sadness, the sport has to ask itself, 'Why have there been two fatalities in just two days?': there must be a reason.
[Jonathan Palmer] That's certainly a logical question, but I can't help thinking that it is the most tragic of coincidence overall. I think it's important to recognise that, from what we know, neither of these two accidents had anything to do with drivers wrestling with their cars, trying to over-drive it, and losing control purely through trying to go quickly. I think in both situations, in both circumstances, something has broken—possibly with the car, possibly some debris on the circuit, possibly a tyre—there has been some outside influence rendering the driver no chance of controlling the vehicle. And with the very high speeds that we see here at Imola, plus the fact that those high speeds are seen on swerving parts of the circuit, the car will almost certainly go off the road and hit the concrete walls either side.
[Steve Rider] We talked before the race; with the change in regulations, there are new and greater demands on drivers this year.
[Jonathan Palmer] Yes, there are. We've seen the changes in regulations removing active suspension, which only had one year of prevalence in Formula One after all, you know, we've been using the sorts of suspension that we have now for decades in the past; so non-active suspension is not new. And indeed nor is getting rid of traction control; traction control is undoubtedly an aid to safety, in the same way that ABS braking is an aid to safety under braking; but of course it does remove driver influence, and it's always been very important to Formula One to have the driver being in as much control of the car as possible, and his skills influencing the car's performance. But again, those kind of changes—particularly removing traction control—sure's meant the cars have been harder to drive, but really at the slower parts of the circuit: it's easier to spin the cars. But once again I emphasise that these two incidents had nothing to do with drivers losing control of their vehicles while pushing them to the limit. In both circumstances the cars left the road when they should have been capable of rounding the corners without any problem whatsoever, well within the limits of both the drivers and the cars. Something went wrong in both occasions.
[Steve Rider] You raced against Ayrton Senna; what a great talent the sport has lost today?
[Jonathan Palmer] It's absolutely devastating, I think everybody is totally numb about… the thing. To my mind he was the best driver Grand Prix racing had ever seen. Different people have different views, but I think the guy was quite exceptional; and it's a dreadful loss to the world of motor sport.
[Steve Rider; vision shows static trailer] There'll be more on a great racing driver in a special tribute programme at two-twenty on Wednesday afternoon, BBC2.
[Vision: illustrative VT sequences] We had a race today: (a) two-part race in which Michael Schumacher made it three wins out of three, for Benetton. Nicola Larini added some joy to the day with second place for Ferrari, Häkkinen third for McLaren, with Damon Hill completing the top six. Schumacher now dominates the world championship, with maximum points from the first three rounds; the next round in Monaco, in two weeks time, takes place without one of Monaco's most famous residents, Ayrton Senna. As a result, there was no champagne on the podium after the race this afternoon; there really was nothing to celebrate, even for Michael Schumacher:
[Michael Schumacher, VT from Unilateral Room post-race press-conference] Just win a race, but I can't satisfied, can't feel happy. I mean, what happened this weekend, never have seen something like this, not just one thing, so many things. The only thing I can say about it is, I hope we learn from this. I think there is a lot to learn from, and we have to use this; and things like this they shouldn't happen without taking the experience from it. That's the only thing I want to say and I can say.
[Steve Rider, to camera] I've known Ayrton Senna and had the genuine pleasure of interviewing Ayrton Senna, ever since his early days in Formula Ford and Formula Three, back in the early eighties. And to my mind he was one of the most talented, motivated, focussed and lucid sportsmen that I've ever come across. Formula One this evening is mourning the loss of not one, but two drivers: Roland Ratzenberger, and Ayrton Senna.
[2 photographs, then static BBC Sport logo without sound]
There are no easy ways to deliver that sort of news, but I've always felt that Steve Rider did an exceptional job that day.
Murray talks plenty of sense; his quote, I remember Ayrton Senna, and it seems terrible to have to use those words…, complete with shrug of the shoulders and shake of the head, is really uncomfortable to watch when you consider just how sudden, raw and shocking it all was on the day. Even in such a situation there is unconscious wry humour to be observed, in the timing of a helicopter taking off nearby (the filming-location appears to have been on the roof of the pits/paddock complex) which ironically causes Murray to hesistate whilst trying to say the word 'unhesitatingly'.
Even Jonathan Palmer, not the best-liked of co-commentators and criticised by Murray in his autobiography for being too boring and technical, comes out with reasoned discussion and rational argument in his answers; he understandably becomes momentarily lost for words because of the sheer horror of it all and what suitable noun to use, when he says that Everbody is totally numb about… the thing.
The tribute programme at 2:20 on Wednesday afternoon was in the TV slot allocated to a replay of the Imola Highlights programme.
In common with other sources from May 1994 (including the newspaper-reports above), the caption to the final static photos (above) on this programme indicated that Roland Ratzenberger's year of birth was 1962: it was in fact 1960, however Roland liked to make himself appear younger and so more attractive to racing-teams. The adjacent static photo above appears to be a frame-grab from the interview Senna gave Murray Walker on Thursday or Friday (q.v. pre-race VT).
Monday 2 May
My diary simply says, Very difficult to concentrate at all on anything. Here's why: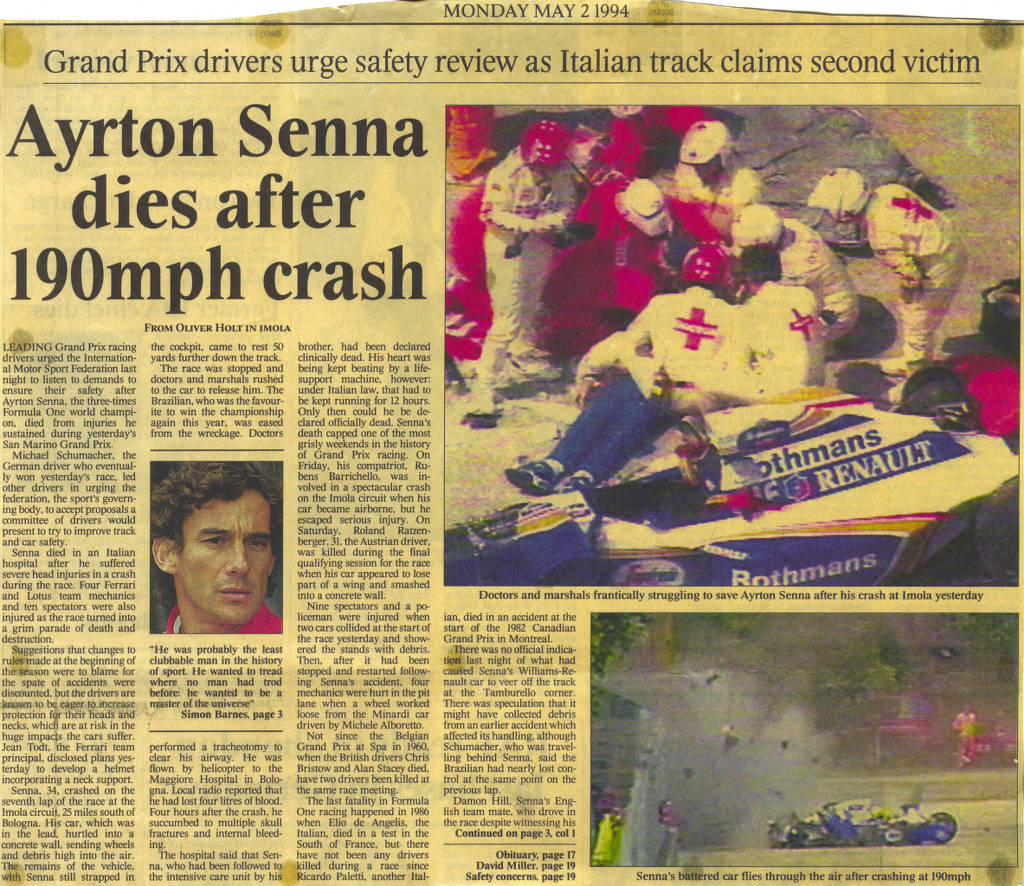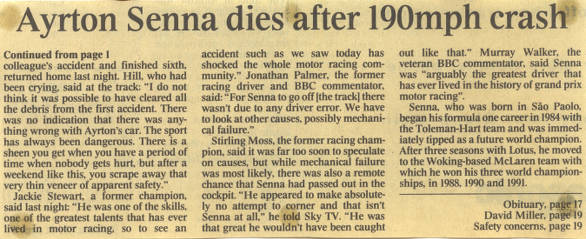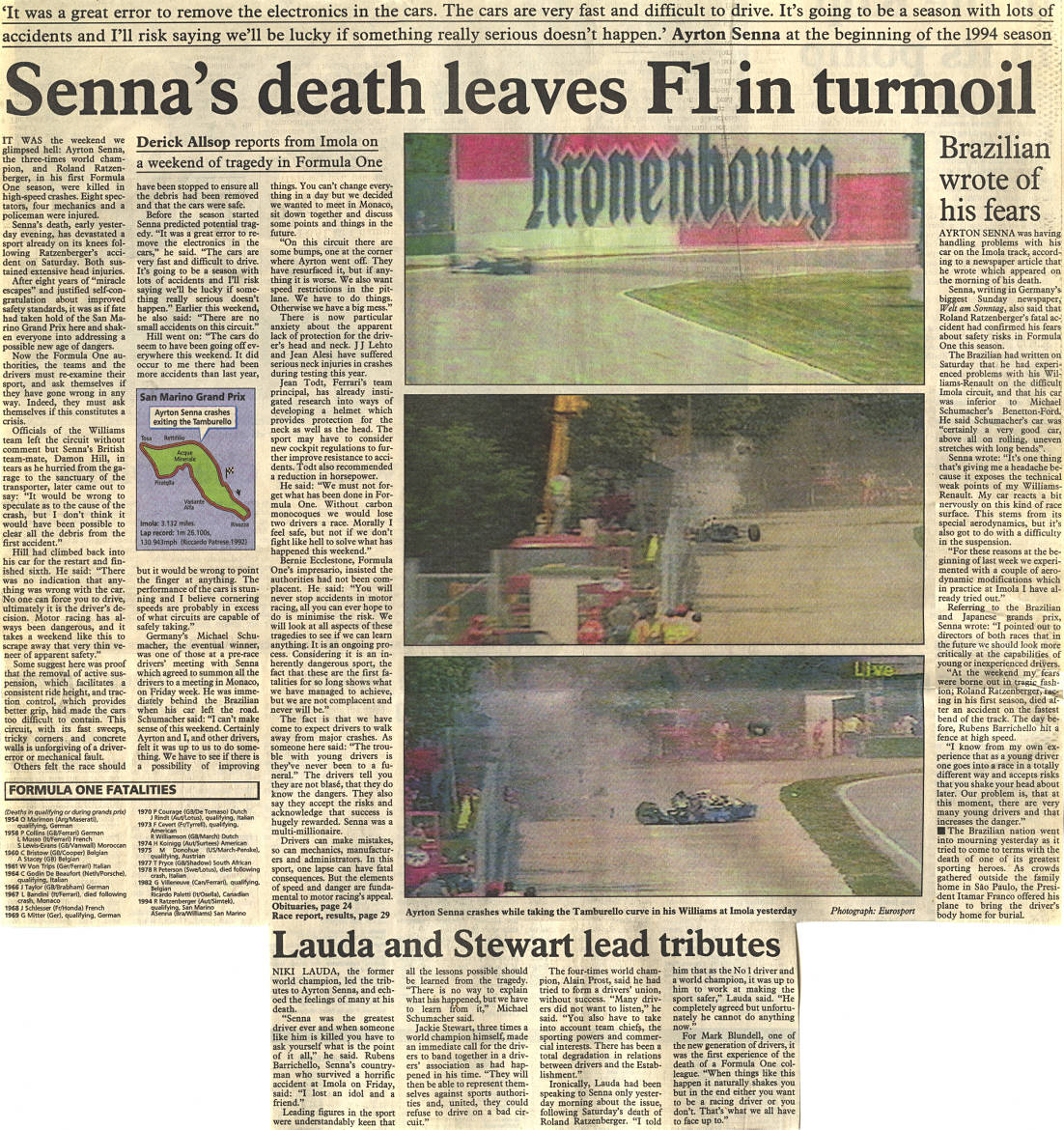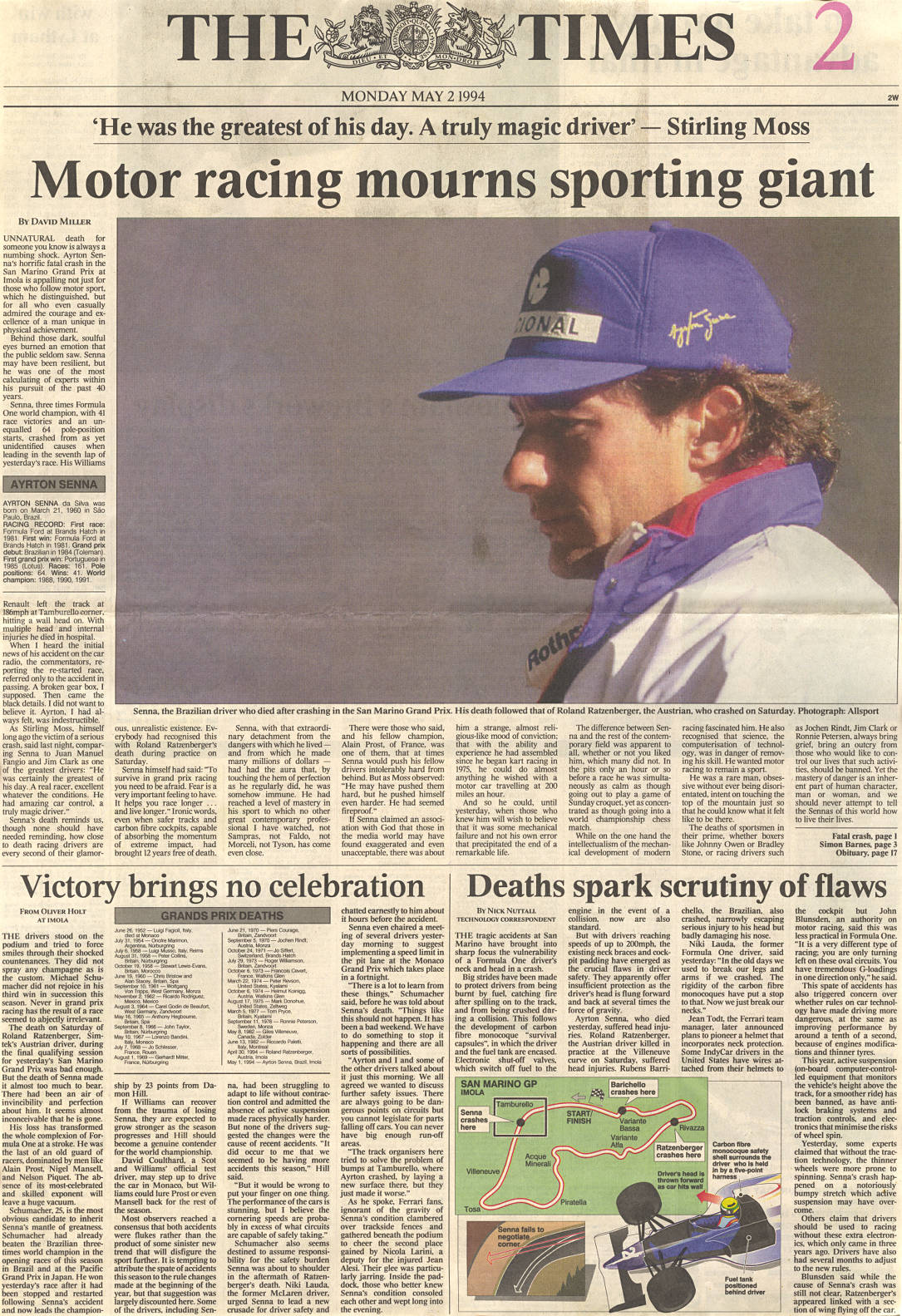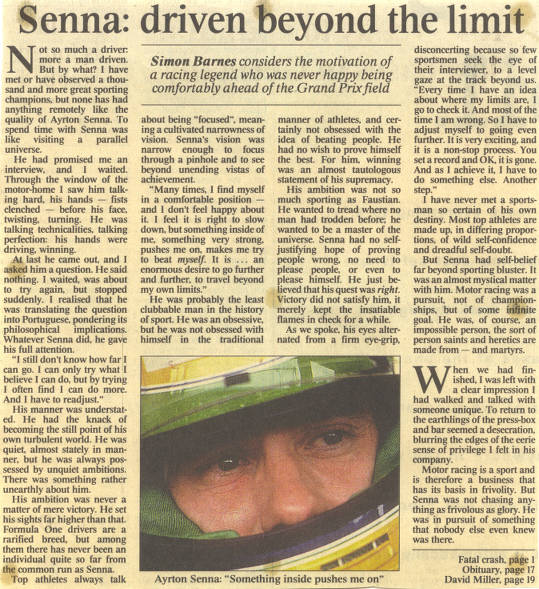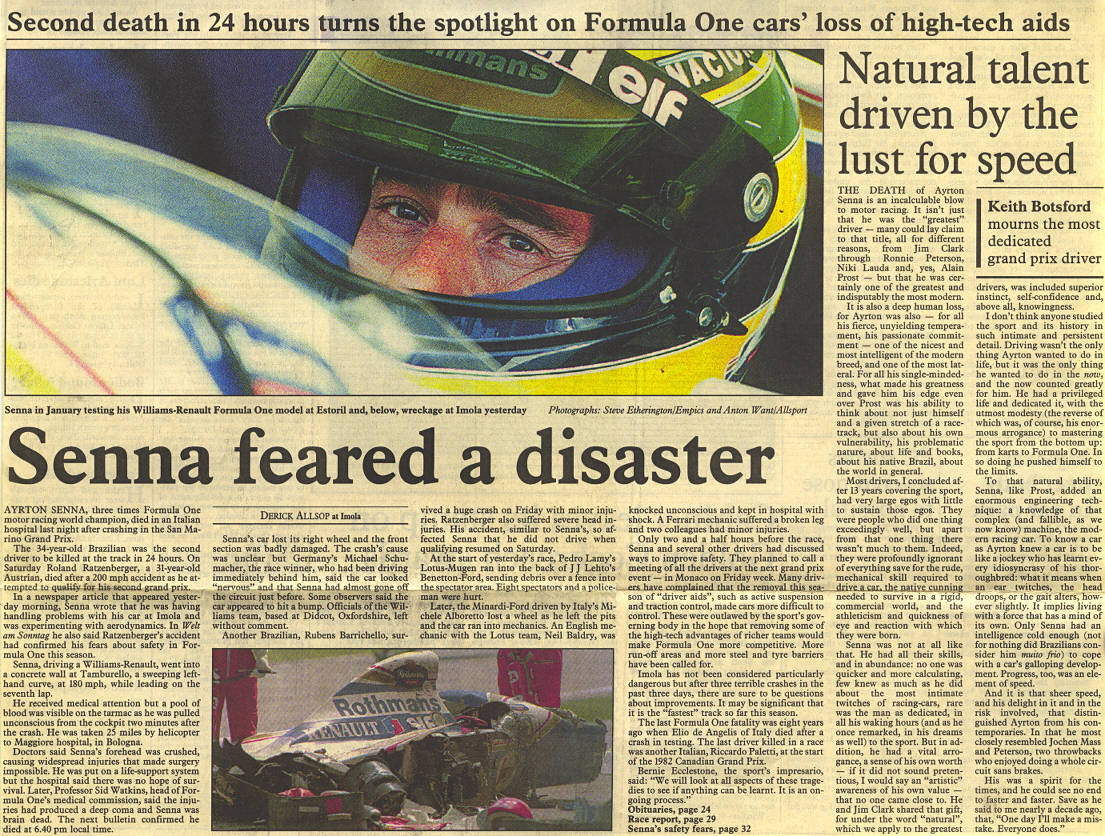 Having been one of many, many witnesses to what was probably then the most public death ever—even though I was having lunch at the time of Ayrton's accident itself—I was certainly grieving; and yet I was grieving for someone who did not know me, for someone whom I had never met. It was a peculiar situation and one which would have been very awkward to explain to someone not already similarly affected—not that I tried.
And so that week at school I was just going through the motions, no doubt crying betimes; my hapless attempt to be ready for A-levels was doubtless further hampered over the coming days: not only could I not concentrate on academia, but such things took on even less significance in the light of this sudden exposure to tragedy. At that stage in my life I was too unsure of myself to go and seek help, to talk to anyone about it; I feared, probably with some justification, ridicule.
Thursday 5 May 1994
Diary: Went to WHSmith and bought Autosport, read it for ages & ages.
Sunday 8 May 1994
It was only following a visit on this day from my Mother, who incidentally brought with her that brand-new touring-bike I'd already chosen a fortnight previously, that I then seemed to re-grasp my desire for the Here and the Now, I got on with catching up on some academic work, went out and did some much-needed organ-practice, and generally recommenced getting on with my own life.
Tuesday 10 May 1994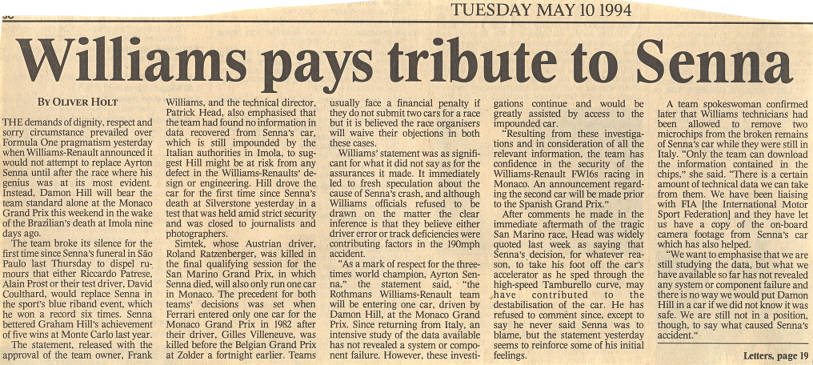 Friday 13 May 1994: the trouble continues…
On the very next day of F1 racing after Imola, the special Thursday qualifying-day at Monaco, Karl Wendlinger crashed his Sauber and suffered severe head-injuries which left him in a coma for some weeks. Karl did make a recovery sufficient that he drove the Sauber during the 1995 season, but he was less competitive than expected and his F1 career never reached its anticipated potential.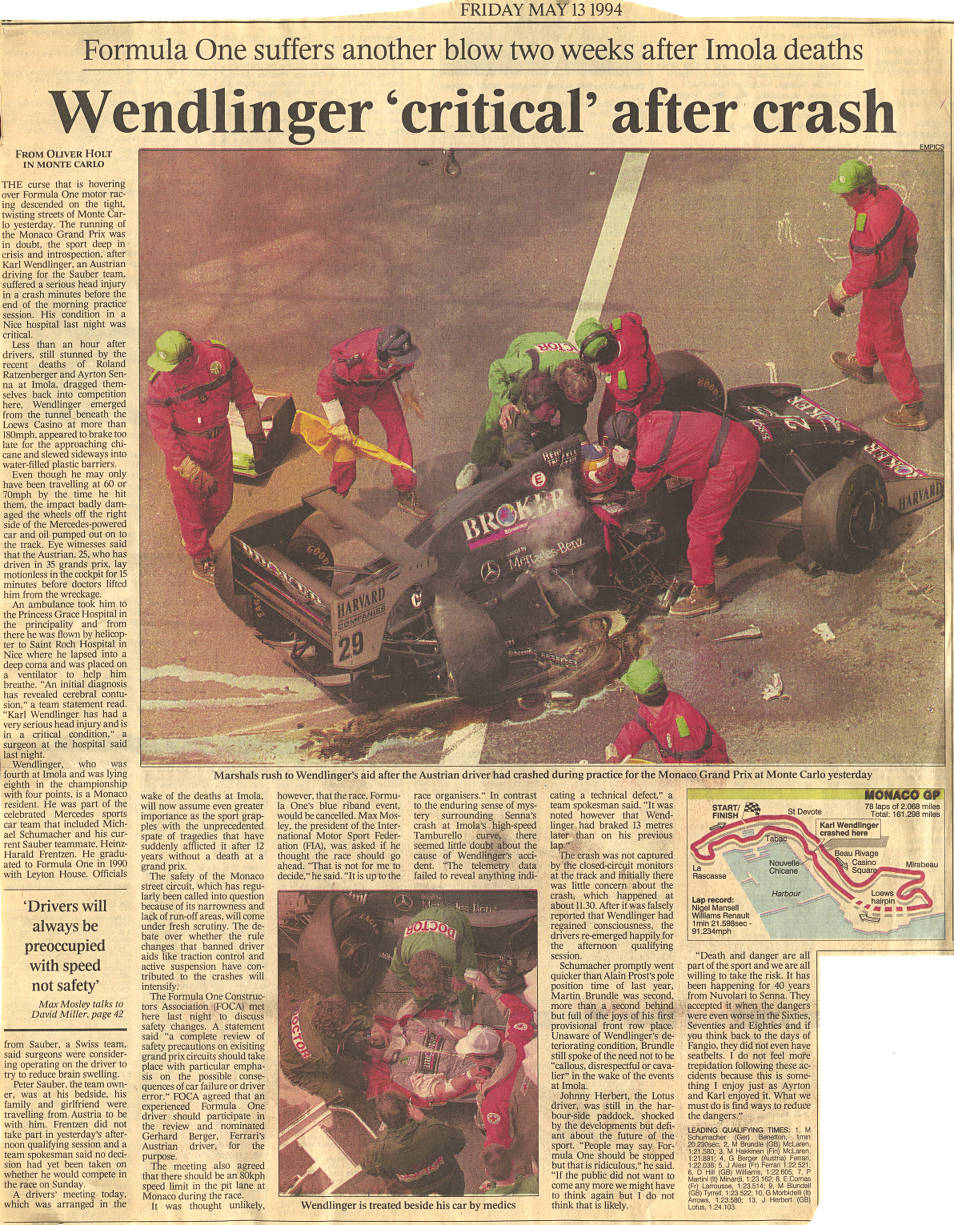 Onward
It was probably not until some point in the summer holidays when I had proper access to a TV and VCR, that I thought I had better sit and watch (such material as I had of) the San Marino GP—as uncomfortable viewing as I knew it would be.
Even in November 1994 I wrote that the whole business of Senna's death still upsets me quite considerably just when I read the newspaper reports of it or even just see the big poster (photo from Suzuka 1993 given away with Autosport magazine) on my wall.
Further resources
Also available are the high-quality versions of the scanned newspaper-cuttings on this page, hosted on Dropbox.
There's a great documentary called The Team: A Season With McLaren made in 1993 and aired on BBC2; I caught just one episode of it, episode 4 of 7, The Boy from Brazil, air-date 3 December 1993. It features lots of great footage of Senna including some revealing interviews about his contractual wrangles with Ron Dennis, about how there's no point being a nice guy in Formula 1, and about financial rewards. Highly watchable!
If you're going to be nice and take it easy, you might as well do something else, not in Formula 1—stay home, or have a more ordinary profession.
In the end, you get paid what you're worth. You know, if you're paid one dollar, or a million dollars, it's what you can offer back.
I know I can die, or have a massive impact in my future life.
Also available is this nice moment from Adelaide 1993 just after Senna's last win, when Jackie Stewart encourages him to smile.