!ATTLIST link sizes CDATA #IMPLIED> ]>
SQUAREWHEELS

.org.uk



Damon Hill
I know there is this popular opinion that Michael's the best driver in the world, but I don't agree. I regard myself as eminently capable of beating him—but I do need the equipment to do it. — Damon Hill, 4 October 1998
It's not Damien! Who said Damien?
This page was last modified on 5 September 2017
Demonstration laps at Thruxton, October 1993
I was privileged to see Damon Hill doing a demonstration in the Williams-Renault FW15C on Sunday 10 October 1993, at Thruxton circuit in Hampshire.
Damon and the FW15C had already visited Thruxton earlier in 1993 for the circuit's Silver Jubilee meeting on 26/27 June; but the Renault engine's pneumatic valve system had sprung a leak preventing it from starting. He'd promised the disappointed crowd he would return, and now he did! In the intervening 15 weeks Damon's F1 career had flourished and he'd just recorded his first three Grand Prix victories!
When I arrived at the circuit five minutes before lunchtime, it was my first taste of live motorsport and I had no idea that I was about to see F1 (not that anything could have prepared me for the noise that F1 cars make, though!). The meeting itself was the British F3 finals, with Caterhams, BARC saloon cars and Westfields in the support package.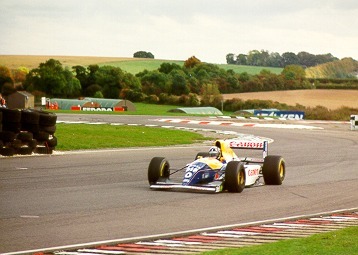 During the lunch break, the Williams was fired up and out came Damon Hill! He did an installation lap, three increasingly quick laps (he lowered the unofficial lap record by a huge margin to 57.6 seconds, average speed 147mph), and then a showing-off lap. I was standing on the exit of the chicane onto the pit straight, where you are by the grandstand; this was a brilliant place to see an F1-car under full acceleration at a distance of only a few yards (as seen on Damon's quickest lap, above). Naturally it was also the obvious place for the showing-off: Damon performed four spin-turns one after another, the last of which created so much tyre-smoke we couldn't see the car at all! (I was so awestruck it didn't even occur to me to take any photographs.) Then he accelerated out of his smoke-screen along the pit straight, doing a neat spin into the wrong end of the pitlane.
There was something of a stampede to get into the paddock where Damon emerged from the transporter and gave autographs for a long time, chatting away to everyone the while. I hadn't got a programme to hand but found my paddock pass so he signed that—and here it is.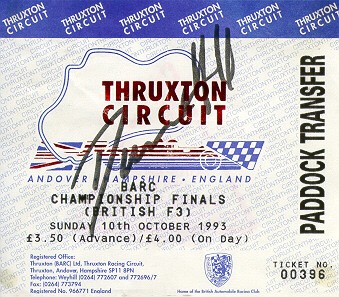 British Grand Prix 1999
Comparatively recently, I attended the 1999 British GP weekend at Silverstone. I was lucky enough to get several very close-up shots of Damon as he left the circuit on the Saturday evening: quite contrary to all the media reports about Damon being depressed, Damon quitting before the end of the season, et cetera, in actual fact Damon was enjoying himself!
When Damon had got on his motorbike and fired it up, he was kept waiting by his wife Georgie who was chatting to Peter Boutwood (close friend of theirs). Perhaps it was just a spur-of-the-moment gesture to his real fans—who were not slagging him off—but whilst he was waiting, he put the rear tyre on a damp patch, wound open the throttle and did a huge "burn-out" creating a wall of tyre smoke! That, and the quirky grin that he then gave the 30 or so of us race-goers who were standing at the fence of the FOA car-park, are among my most treasured GP memories.
My photographs of this will appear here when I get a chance to scan them.