!ATTLIST link sizes CDATA #IMPLIED> ]>
SQUAREWHEELS

.org.uk


The OxCam 400 Audax
24/25 July 1999
This page was last modified on 30 August 2013.
A 250-mile cycle-ride through central southern England, in 25 hours
Introduction to Audax rides
A 400-kilometre (250-mile) bike-ride sounds pleasant enough; one in summertime with 60 or 70 other like-minded souls sounds excellent. But then think of it in terms of riding through the night to complete it within 26¾ hours, and it takes on a more challenging perspective. I happen still to like it and to relish the challenge.
"Audax" rides are run under the rules of Audax UK, a part of the Audax Club Parisien which originally began promoting long-distance non-competitive endurance rides many years ago; the name comes from the Latin for 'bold, brave'. The object of the ride is to follow the route as given on route-sheets, whilst maintaining an average speed between 15 and 30 kph — not all that arduous in actual fact; along the route you get your Brevet Card stamped, timed and signed at various control-points. Some of these are known in advance, some are secret (to prevent short-cuts!); some manned by people running the Audax ride, some simply the cashier at a filling-station. It is often arranged so that food, either in the form of a nearby café; or shop, or laid on by the organisers, is available at control points; however, to economise on manpower, some controls are Information Controls and simply require participants to note down the locally-provided answer to a given question, such as the name of a particular pub passed en route.
The OxCam 400
The Oxfordshire District Association of the CTC teamed up with its opposite number for Cambridgeshire, the Cambridge District Association back in 1997, to plan this new ride; Oxfordshire's Ted Friend and Cambridgeshire's Mike Stapleton began the work but, following Ted's sudden death in Autumn 1997 it was thanks to local Audax-afficionado Dave Collins that the event continued to be arranged. It had its debut in July 1998 and was very successful; I rode it (my first 400k ride) and just knew I would be coming back for more.
The route was a figure-of-eight loosely based on Cambridge and Oxford: the ride HQ was at the centre of the 'eight', at Ampthill which is a few miles south of Bedford. Ampthill was also the start control, finish control and the nighttime half-way-point control. Beginning at 2pm on a Saturday afternoon, the ride headed westwards in a clockwise loop through Stewkley, passing close to Oxford, and taking in Charlbury, Moreton-in-Marsh, Banbury, Buckingham, Bletchley and back to Ampthill (in the middle of the night); the other half of the figure-of-eight was also clockwise and began north-eastwards to Biggleswade, Haslingfield, very close to the City of Cambridge at Great Shelford, turning south-west after Kedington, and returning to Ampthill via Buntingford and Baldock. To achieve the minimum (15kph) average-speed, riders had to complete the route by 1645hrs on Sunday.
Preparations
My then-new bike, appropriately enough a Dawes Audax Giro, was only three months old and needed a bit of customisation before I could take part in this Audax ride. Leaving things rather to the last minute as usual, on Thursday afternoon I began by taking the bike back to the shop to have a worrying clicking noise investigated (it could be heard every time the front wheel went over a large bump or I applied the front brake — I was afraid it might be something wrong with the frame), but they couldn't look at it straight away so I decided to take my chances with it. I trued up the rear wheel which had seemed not to be quite round 'out of the box', but my efforts at first made it a lot worse until I was just starting to get panicky, before it seemed to come good again.
Then there was the little question of lighting. Earlier in the month I had fitted a dynamo lighting system, which involved sawing chunks out of both the mudguard and the carrier (!), and had got it working well. However, a set of night-rides in Sussex had re-affirmed my belief that unlit country roads at speed really require more than 2.4 Watts of headlamp, and preferably that something stays on when I stop. To my previous bike I had fitted a second set of dynamo lamps which I powered from a large sealed lead-acid 6-Volt battery; this worked well but I hoped to be able to fit a more powerful headlamp — I'd had one on order from CatEye which finally came in the spring after only fourteen months! With much help from my brother, I found a way of fitting the CatEye NC-210 headlamp onto my right-hand fork-blade, just above the existing dynamo headlamp which is bolted into the low-rider boss; with the aid of some temporary (and, let's face it, unsightly!) 'physics experiment'-type wiring, I eventually had my battery lights set up and working at 23h on Friday.
Next was to gather together my cycling clothes (all washed earlier in the day), some PowerBars I'd bought, suncream, money, railcard, casual clothes, sandwiches, fruit, and various other items — it all seems to take far longer than it should, anyway! These assembled, I spent an hour or so with a large-ish road-atlas and the route-notes, going through every instruction on the notes and comparing it to the map: not strictly necessary but very useful when faced with a dilemma out on the road; given that I'd ridden the ride the previous year, much of it clicked back into memory straight away. By the time I'd done these things and — very importantly — cut my toenails, it was about 02h on Saturday: hardly the best way of preparing for an all-night ride, but leaving things to the last minute seems to be a hallmark of most ventures of mine!
The big day (or two)
Come the morning, I downed eight Weetabix and a few bananas, packed everything up and left home in Oxford at ten to ten; I called by North Parade to give a bag-full of things to my friend John Broughton from the Oxford City CTC — he would be manning the Moreton-in-Marsh control that evening. Making it to the station with five minutes to spare, I cursed when I saw the huge queue for the ticket-windows but caught the train with ten minutes in hand as it had been delayed. At Paddington, I could just have ridden down Marylebone Road et cetera to Farringdon or King's Cross Thameslink, but chose to go there directly on the Underground since my ticket was valid anyway. On the 1142 Thameslink service to Bedford I ate some sandwiches and tried not to notice the searing heat building up outside. At Flitwick station I alighted and rode the two-and-a-half miles through the bottom end of Ampthill to the ride HQ, ruefully recalling my previous visit to Ampthill in which I ended up having to bail out of my nighttime Oxford-Cambridge ride after my frame had broken.
I should explain that it would have been quicker and probably more reliable for me to have travelled from Oxford to Ampthill by bicycle to get to the start-point of the ride, but I reckoned my behind wouldn't fancy the extra mileage particularly since I'd done woefully little riding since the previous summer. I arrived at Parkside Hall, the ride HQ, at ten to one: in very good time for the two o'clock start. Soon afterwards someone arrived who doesn't mind riding an extra mile or hundred: Phil Hampton of the Farnborough Wheelers, who rode the event last year and who amazes others by riding to the start-points from Farnborough, in this case seventy miles away. His trademark is to carry what he needs on the ride (battery, spare clothing etc) in an old cardboard box strapped to the top of his carrier.
¶ I regret to report that, on 16 June 2002, Phil Hampton was killed by a passing vehicle as he rode home after completing the Denmead 400. May he rest in peace.
As I unhooked my panniers (they wouldn't be coming on the ride itself but contained all my bike kit, spare clothing, food etc), the sound of an Eastern-European 250cc motorbike approached behind me: before even turning to look I knew it was Dave Collins and, as I anticipated, bolted to his motorbike was his amazingly practical — not to say wonderfully eccentric — handbuilt sidecar. It consists of a metal frame holding a roughly coffin-sized lidless wooden box, with the frame continuing upwards to a pole running the length of the contraption about five feet off the ground: the latter allows a tarpaulin to be secured over the sidecar. What Dave does is to ride through the country to wherever the ride starts, remove his bike and other things from the sidecar, rig up the tarpaulin and then sleep in the sidecar! This wasn't necessary that day, of course, with the ride due off in an hour's time; he refused my offer of assistance as he unloaded first his bike, then some saucepans and cans of beans, then a four-gang mains electric toaster from the box… all apart from the bike were actually for use in the ride HQ, whilst Dave had opted this year to ride the Audax instead of co-organise it, leaving the balance of the task to Mike Stapleton. Since I knew I wouldn't see Dave on the ride (he'd be almost back at HQ having finished before I would have left it at the half-way point) I chatted to him and discovered that later in the summer he planned to ride The Big One — Paris-Brest-Paris — for the first time. 'Paris' takes in thousands of entries, totally blowing into irrelevance the little jaunt of that day; it runs once every four years and comprises 1200km in 90 hours.
Butterflies rising
After ride HQ opened at 13h I picked up my Brevet Card — rider 72 — and sought out a quiet corner in the smallish hall to cache my things; I re-sorted the contents of my barbag, changed into my bike clothes, ate some food, and arranged my panniers so that one would contain the clothes I'd be changing into at the half-way stop in the middle of the night. Experience has taught me that brain is definitely in neutral at four in the morning with 140 miles already covered, so anything to reduce its workload pays dividends later — hence also my re-checking the route the previous night.
The sunshine was really ferocious outside, so after putting in my contact-lenses — enabling me to wear wrap-around cycling shades — I liberally applied Factor 20 suncream over and over again, to make sure there would be no burning today, and to lessen it if I should be too tired to think to apply it tomorrow. As I did this, I spotted Nik Windle (Nik of uk.rec.cycling) with whom I rode most of the previous year's event; as Nik was also to ride Paris this year, I suggested he might prefer not to ride with me as I'd be taking it very easy. Cutting things fine once again, I left it until the very last minute before filling my bottles (keeps the water cooler) and putting on my bike shoes (helps prevent various foot problems) and ran outside just as the first wave of riders was let out onto the road: I need hardly say I didn't see Dave Collins again after that!
This is it!
Just on 14h by my clock we set out, holding up the queues of cars who rightly saw that there was no sense in overtaking a continuous line of bikes, and turned off onto the small lanes towards Woburn Park, and Buckinghamshire. Even from behind my sunglasses I was aware that the sunshine was indeed of the heavy-duty variety, but all was OK and I felt good; it was a great feeling to be riding in a large group once more after so long more-or-less devoid of cycling. What I had in mind through most of the ride was that I wanted to ride it no more slowly than the previous year: to finish inside 24 hours' elapsed time would be a nice target for which to aim — though of no particular usefulness — but knowing what times were written on my Brevet card from the previous year, I hoped not to be later than these. The first control would therefore be at 1658 at the Royal Oak Farm Shop, near both Stanton St. John and Beckley and not five miles from my home in Oxford: I'd arranged that my brother would ride up the hill and meet me there, just for general amusement.
I ate some sandwiches as I went, and thoroughly enjoyed riding the section through the Brickhills which is all covered by my own cycling route for Cambridge to Oxford; coming off Great Brickhill I acheived some high speed, but I couldn't see if it was 67 kph or 87 (my speedometer's display was not enjoying the sunshine). It later turned out to be the more disappointing 67. Nik and I were together, roughly in with a group of ten or so, all the way through to Whitchurch; as I was catching the group after a pee-stop, it turned right at the roundabout in the village. Almost immediately it turned right again, which I knew was wrong as we were supposed to be heading straight on for Pitchcott: I shouted as hard as I could, and the message eventually filtered through to the leaders — and so Nik caught me up just before the expansive viewpoint at the top of Pitchcott hill. The descent was pleasing as usual, and the climb up to Upper Winchendon was not too bad as we elected to take it in 'winch' gear! At Long Crendon we were instructed to turn off down the short, steep twisty section of hill towards Shabbington, on which I frightened myself last year by taking it too fast when an oncoming car appeared. I didn't make that mistake this year, but at just the same moment there was a sudden, sharp stinging pain on the surface of my chest: I wondered whether the rider in front had flicked a stone up, but when the pain didn't go away I just had to keep control of the bike until safely off the hill. Immediately afterwards I threw the bike to a halt on a verge, and ripped off my top over my helmet, with the thought that perhaps a wasp or bee had got trapped inside it; a secondary, less severe pain seemed to come from somewhere on my back. No insect was found and no sting was visible, but something had caused quite a hurt and some shock; Nik resourcefully produced some anti-inflammatory cream which I applied and we set off only a handful of minutes down on the larger group. The third county, Oxfordshire, was reached just after crossing the M40.
On the climb through Stanton St. John I was just taking it very easy, knowing that it's more difficult than it looks, but even so I was caught out as I felt sure we must already be past the church (and nearly at the top) when we hadn't got to it; but this wasn't a problem and I was feeling good. A mile up the road, we pulled into the first control point just two minutes down on my previous year's time at 1700, and my brother was waiting for me with a box of strawberries. I had my card stamped, we went and ordered some food, and filled our bottles; the Royal Oak Farm Shop tea-garden does its best but is not ideally suited to catering for Audax rides as it takes quite a while to deal with the orders — a lot of people (myself in particular) are keen to avoid long stops and just grab some food, and get going as soon as possible. This was not possible there, so we sat at the picnic tables eating and talking for a while. Nik wanted to stay for some more food while I, mindful of already losing time on last year, opted to head off towards Moreton-in-Marsh without further ado; my brother and I rode north-westwards together for a mile or so until, bidding goodbye and good luck at 30mph, he forked left for Elsfield and Marston while I continued down the steep bit of hill onto the corner of Otmoor.
Going it alone
I spied riders ahead of me and promised myself I'd just stick to a sensible pace and avoid falling into the trap of going too fast too soon. All the same, I gradually caught and passed them, and might have stayed with them but that I was happy to ride alone for a while. At Bletchingdon there was a barn-full of hay-bales well on fire, with the Fire Brigade's hoses laid across the road for us to bump across; whether it was the searing sunshine (mercifully on the wane by this point of the day) or a side-effect of school holidays that caused the blaze, I could only guess. Before Wootton, I saw in the distance a balding veteran rider(2) with wrap-around dark glasses; he appeared to dismount a couple of times, and was going quite slowly: when I caught him I chatted with him for a bit, and wondered whether he was flaking or just taking it easy?
No, he replied with just a hint of a smile, I don't really get going until I've done 200k. With the apparent weakness of his riding at that time I wasn't quite sure whether he was joking or not; he was happy to be left to himself so I powered onwards alone towards Charlbury. Checking the notes on the approach, memorising the three turns and reconciling the instructions with my recollection of the place, I was able to hurtle through the village without slowing repeatedly to read the notes and make my mind up: this was immensely satisfying to do, and although it probably didn't save more than 30 seconds it avoided breaking up the sweet flow of climbing and descending, and saved energy through not slowing unnecessarily. After Spelsbury I caught a youngish bloke wearing a Trek jersey, and a peaked cap under his helmet, who appeared to be in difficulties; he was going very slowly, and asked me several questions such as, How much more hill is there?, Have you done this ride before and How far is it to the next control?. I was prepared to stay with him long enough for him to recover from whatever exertion had tired him so, and he got a chance to refill his empty bottles in Chadlington: a jovial old resident was sitting on a stool on the pavement outside his front door, offering the passing cyclists water! I later realised that I had seen the same man doing exactly the same thing the previous year. Several minutes of winching is required to get out of Chadlington towards Churchill, and I sat back and took the whole hill so gently that I could hardly feel the pedals beneath my feet; yet when I looked round, Mr. Trek was nowhere in sight. I felt guilty that I hadn't stayed with him, or at least given him some of my Kendal Mint Cake or something to get him through his rut; I later learned that he had walked up the hill, so I would inevitably have dropped him unless I too had dismounted.
The remaining section to Moreton-in-Marsh was not too hilly and fairly uneventful; I was feeling strong, and better with the passing minutes as the heat lessened. We passed the turning to Adlestrop, and left Oxfordshire for Gloucestershire. I rode the last few km with someone who was attempting his first 400k, and we arrived at 20h. The previous year, the ride had gone up the huge hill to Stow-on-the-Wold and yet, even taking into account differences of distance, I had been a quarter of an hour earlier: I felt paranoid I was losing too much time, so what I needed was another shortish break. The Marsh Café had opened specially for us and we had been encouraged at HQ to support it: however, like at the last control they weren't truly able to cope with the numbers of hungry cyclists who descended upon them baying for food. Another time I gather they would double the number of staff, and perhaps a system other than 'ordering at table' might come into effect to speed things up; it was packed and it was half an hour before we saw the food we ordered. I just had beans on toast, intending that this would tide me over to Banbury, where I knew from last year exactly where to find a fish & chips…
Nik arrived about ten minutes behind me, but the Trek chap — whom I subsequently learned was called Peter Turnbull — didn't appear until very shortly before we were both ready to leave (my having wasted well over an hour there); incredibly, he'd been given last year's route-sheet and had ridden all the way up to Stow-on-the-Wold, only to find that — surprise! — there was no control-point at the Little Chef. I had taken full advantage of the actual control point, to engage in verbal horseplay with Rex Belcher (he seems to do this every time I ask him to stamp my card!), and to pick up my bag of supplies from John Broughton. I strapped the 1.25kg battery to my carrier, transferred the food to my barbag but gave back the thermal vest and undertrousers as the weather was definitely not going to require me to wear these. I gave Peter some Kendal Mint Cake, he got his card stamped and he joined Nik and myself, abandoning any prospect of food at the Café, to avoid losing any more time.
Into the night
It was not quite lighting-up time as we set off, soon turning onto small undulating roads running across gentle hills and through pretty villages; the sky was clear and the temperature mercifully dropped quite a lot. I recalled from the previous year, and indeed Mike Stapleton had put in the notes, that there was a monster of a climb after Lower Brailes; we made it to Sutton-under-Brailes, in a corner of Warwickshire, and joined the B4035 which would take us all the way to Banbury. Peter was riding strongly by now, having quite got over his problems of earlier, while Nik seemed to have benefitted from his food at the Marsh Café and was unstoppable; the 7km climb out of Lower Brailes was achieved without undue difficulty, and I recalled the next section as being severely undulating but with more down than up!
With both my dynamo and my 6-Watt lighting system on, it was a pleasure to come screaming down the curving main streets of Swalcliffe and Tadmarton — back in Oxfordshire — sections which had been more frightening the previous year without such lighting provision. These, and the village of Broughton, whizzed past and we overtook a number of riders on the way; Nik waited for us to rejoin him and we hurtled down into Banbury together. Having ridden the route before and by dilligently following the instructions, I got us through the town quickly and then saved 20 minutes on last year by proceeding directly to the fish & chip shop just after the station (it's on the Audax route, but we'd gone all round the town centre last time in search of it!). We ordered the obvious food and it came in huge portions; as we sat on the low wall across the road — so thoughtfully provided! — we all found ourselves in difficulties that I didn't recall from the previous year, of being unable to eat the food. We had joined a chap in his fifties (with what I recall to be a Hampshire accent) and all of us sat there force-feeding the greasy food into ourselves to some extent before giving up having eaten as much as we dared: the sultry heat still lingered in the air and may have been a factor in making the eating difficult. I was distinctly worried because, despite making what felt like very good pace over the last section, it was getting on for eleven o'clock and I wanted to be in Buckingham no later than midnight (last year's time); it was 32 km away, I reckoned we could be up to an hour down if we didn't look out. Now was not the time to dawdle!
After I'd cleaned my hands, filled my bottle at the now-closed shop, and exchanged contact lenses for glasses, we set off as a foursome; we left the eastern side of Banbury by way of some small roads, rather than the shortish sections of dual carriageway that were last year's route — a definite improvement. Now that it was truly dark, I was revelling in the use of my bright headlights, and happily took it upon myself to read the route notes: I carried an old Knightlight LED flasher in my barbag which I would get out, set to steady mode and then point at the route notes in the clear pocket on top of the barbag, which is perfect for picking up the instructions — bright enough for the job, but as it's red you don't lose your night vision. Once onto the B4525 and out of Oxfordshire for good, it was 11km of largely flat Northamptonshire riding to Syresham, and I agreed with Nik that we'd up the tempo and try to claw back our lost time to arrive as close as possible to the right time at Buckingham; we left the other two behind, rode strongly in high gears and drafted one another through the night. I knew at the time it would probably tire us out rather quickly, but reckoned on doing some recovery later on; it was a huge morale-boost (for me at least) to be flying along at a steady 30kph, and I derived pathetic amusement from whizzing past other riders from time to time as if they were stopped! The 11km was over very quickly, and we briefly joined the A43 before turning south-east off it again; the next village was at Biddlesden (Buckinghamshire), where a phone-box had been the subject of an information control the previous year. As it was exactly midnight, I took the opportunity to try and ring my father as pre-arranged, but he was out.
We pressed on, flying down the narrow country lanes with help from decisive navigation and bright headlights. We approached a crossroads near Water Stratford, at which we would be crossing my familiar route from Oxford to Silverstone (between Tingewick and Dadford); the other road is a very wide avenue forming an ornamental approach to Stowe School: we saw no headlights approaching and just powered straight across the Give Way! Immediately afterwards the road pitched downhill and round a bend into a ford, which like last year was nothing more than a slightly dusty patch in the bottom of a dip; we joined the main road and arrived in Buckingham slightly over half an hour down on last year's time at 0035.
Long drag back
The control point at Buckingham was, as last year, the BP garage and our cards were stamped by the cashier; the shop provided an opportunity to buy rations and refill bottles, and I downloaded from my memory onto the Brevet Card the information from the Info Control (a distance on a signpost) from 15km back — I'd been saving time by not stopping in the dark! I tried ringing my father in Cambridge again but he still wasn't answering: all I needed to say was that things were on target at present for him to meet me at the pre-arranged time of 0630 at the Haslingfield control. Shortly before we left, the Hampshire-accented chap and Peter T. arrived.
At exactly 0100 Nik and I looked at each other in silent agreement that it was time for the next dose of riding, and I hooked one earphone of my matchbox-sized FM radio into an ear and listened to the World Service for a while. As I was happy that I knew the route for a while, Nik was content to let me navigate, so we proceeded in 'zombie' mode, just silently riding along line astern, eating up the kilometres. That section was 13km of the A421 into the fringes of Milton Keynes and Bletchley, which was fine by that time of night with very little traffic about. Before we'd reached our turning-off point of the Tattenhoe Roundabout, we came upon a couple of riders who'd stopped to put a chain back on; we rode with them, and I insisted that we follow my own interpretation of
Follow B4034 under Station to Roman Road mini-rbt; At R-R Mini Rbt R (SP FENNY STRATFORD);
…which involves passing underneath the railway not once but twice, going straight on at a couple of intervening roundabouts, before making a right turn at the Roman Roundabout. Even so, we tried to go right at the roundabout after the first railway bridge, and I was reminded of last year when my group had done exactly the same thing! The notes were subsequently amended to clarify this section.
After this it was back onto unlit roads for the final 20 km or so back to HQ, food and a snooze; I recalled that I'd felt almost asleep with fatigue at that point last year, but was wide awake and still having some energy this time round. I stayed with the two riders we'd met just after Buckingham, while Nik disappeared in front or behind, I forget which; it gradually dawned on me that one of the riders I was with was the balding chap I'd met before Charlbury quite early on in the ride — he who'd told me he didn't get going until he'd done 200k. Well, we had now covered exactly 200km, and were going OK; his name was Karl, he was a 4-times veteran of the Paris-Brest-Paris and was just riding this audax as a bit of gentle training for the 1999 edition — he thought he might 'pack' (abandon) the ride at HQ if he felt like going to sleep instead. He was impressed with my bright headlight, and coming from someone who has ridden in so many P-B-Ps that is a compliment! The village of Woburn Sands came and went, as did the border with Bedfordshire, and we got onto the A507 to await our turning to Ampthill. Several times we saw a turn on the left but it wasn't our one, and I remembered how I'd been absolutely furious the previous year upon being 'tricked' by all these useless turnings! No such anger this year, we rode in gently under the stars, and arrived at HQ at 0245 — 35 minutes down on last year.
Eating and snoozing
The nighttime atmosphere in the ride HQ, as last year, was a bizarre mixture of cheerful wakefulness, totally zombie'd sleep in the darker corners of the room, quiet but persistent talk of food, and the arrival and departure of riders sometimes in high spirits, sometimes clearly nine-tenths asleep and wishing they could stay lying down. Cheerful wakefulness was how I felt for a few minutes until the adrenaline ebbed away, but was the permanent domain of the catering crew — volunteers from Oxford City CTC — who fed me beans on toast, tea, rice pudding and such like. I'd taken Karl's advice to eat food before having my snooze, and had just time to do this before being overdue for falling asleep wherever I was. I have dim recollections of changing out of my cycling clothes (giving backside a change from cycling shorts, and generally keeping warm) and realising how much I'd been sweating and how smelly I now was; of my friends Ellen and Stephen Lee plying me with food; and Pat Hurt with his invincible 0310hrs sense of humour, in the kitchen next door taking orders for the cooked items and repeating them in a silly 'Chinese masterchef' voice! At 0320 I asked Ellen and Stephen if they could please wake me again at 0400 — I didn't want to leave any later than 0430, having left at 0410 last year — since any alarm-clock I could have brought would certainly have woken everyone else before (if) waking me.
I must have gone to sleep straight away and gone into a very deep sleep; although I recall suddenly being awake and seeing Stephen standing over me waking me up, I later learned he'd already tried and failed to wake me for some time! It was now four o'clock and the hall was a bit emptier than before; I was truly zonked at this point and, in my one-tenth-awake state I stumbled over to the chair in the corner where my things were, and sat down staring into space. A couple of minutes later I silently decided I'd just tempt fate and go back to sleep, not caring about this silly ride anyway — I had nothing to prove, I told myself.
Beginning all over again
With the cool dawn light and gentle breeze coming in through the open doors, I was awoken by Mike Stapleton who was going round to the remaining sleepers: It's a quarter to five now, so if you're going to continue the ride I should get going now. I found I was able to wake up quickly at this point — I'd slept long enough to reach the first light-sleep point in the sleep-cycle — and within a minute or two I'd decided that it was worth trying to continue. It had made a big impression on me the previous year that, despite feeling equally groggy, within ten seconds of setting out on the bike again I had felt wide awake, 'That's better, I've got plenty of energy, I know I can do this now'. As Mike went round waking people up, at least one comatose rider rolled over, yawned and mumbled Oh, I'll pack, then and went back to sleep… The atmosphere in the HQ had changed, though: the cosy near-silence had been replaced by louder chatter and a sense of urgency.
With cycling kit back on, including fresh shorts and the windproof top against the chilly dawn, I scampered round filling my bottles, removing my now-redundant lighting-battery from the carrier, and picking up the fruit and PowerBars I'd carefully laid out the previous afternoon; plans to clean my contact lenses for later use went by the by and I rushed to get going as soon as possible. By pure chance, Nik had similarly overslept and, after having a bowl of cereal, we set out together at five past five (ten minutes after the control had closed, but nearly two hours after it had re-opened for riders finishing the event!!); as before, the moment I clipped my feet into the pedals and began to ride, the remaining tiredness evaporated and I was raring to go. The first 12km was the same as my own Oxford — Cambridge route so I led Nik through this, eager as usual to make up for lost time — we were nearly an hour down, and I knew that making Haslingfield for 0630 was out of the question: having left 55 minutes earlier the previous year, I'd arrived at 0620. Almost immediately we passed one chap who had stopped with a puncture; he was OK so we left him, and soon found ourselves in a group of eight or nine including three ladies, a largish chap with a heavy Northern accent, and the Hampshire-sounding chap in his fifties with whom we'd eaten fish and chips in Banbury.
Nik and I followed wheels for a moment or two, then looked at each other and grinned: we would strike out ahead on our own! We powered past and rode off into the distance, foolishly imagining we'd never see that group again; we'd felt it was going too slowly and that we could make up substantial gains by going alone. By this point I was on the lookout for a phone box so that I could ring my father — who would be awake by now as he was expecting to drive out to Haslingfield for 0630 — and suggest a later time. I got my chance at Broom, and in the time it took to leap off, make a quick phonecall to say I'd expect to arrive between 0700 and 0715, the group whizzed past and we were left to chase it again. From then, as we negotiated the one-way system of Biggleswade, Nik and I stayed with the group which seemed to be making better headway after all!
The sun had risen soon after our departure from ride HQ and, I was sweating inside my windproof top as the mists burned off the Cambridgeshire ground about us. The flattish section to Haslingfield was punctuated only by a pleasant little climb up Wimpole Hill on the A603. In the pretty morning light we turned along the lanes into Haslingfield, arriving at the village hall just on 0700; the rubber stamp used by the young lady to stamp our Brevet Cards had a clear plastic handle which lit up when she pressed it. The hall was light and airy, the pint cups of squash free, and the atmosphere one of gentle determination and quiet confidence; after all, with rather more than half of the ride being covered before the nighttime visit to HQ, we had already done 271 out of the 401 scheduled kilometres, leaving just 80 miles to the finish. 80 miles in a shade under 12 hours… it would appear difficult not to complete it! Presently my father turned up to greet me, which was kind of him as he might be described as a morning-hater the same way as myself; he offered me some fruit to take with me, we had coffee and I ate a second bowl of cereal. By 0740 we were all ready to move on, my father taking a photo of me in my reasonably-awake state just prior to setting off.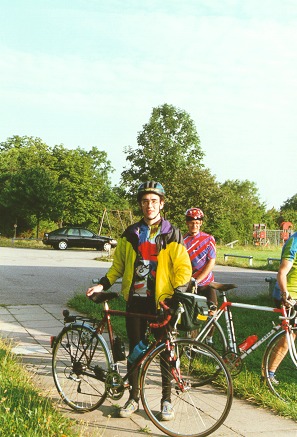 I clearly wasn't all that awake, though; with a minute or two's extra faffing about at the control, the Hampshire-accented chap, Nik and myself had got left behind, and almost at once we — make that I — made a stupid navigational error. I recalled as we passed the junction that I'd noticed something a bit funny about the route notes the previous year, but I obstinately continued and wasted us 8km and about 25 minutes as we rode past Scotsdale's Garden Centre in Great Shelford and almost into Trumpington. Once properly on our way, we headed out towards the hilly part of Cambridgeshire: yes, this concept seemed surprising the previous year too. Cambridgeshire became Essex before Great Wratting, but no less hilly; I knew a section of this route from when my father and I had ridden to Felixstowe from Cambridge in 1994 on the way to France. At Kedington, near Haverhill, we reached the easternmost point of the route after which it turned south-west; we had also finally caught up with the group including the ladies that we'd lost at the last control. To prevent riders turning south-west short of the correct route, an information control was provided in Great Wratting at which we wrote down the name of the local pub.
The route filtered back along minor roads including one called Hill Lane, over the lumpier parts of Essex, through Steeple Bumpstead and then for 20km or so on nearly into Saffron Walden, turning south at the last moment. I recalled an awkward point about the route notes in the village of Radwinter and, moving to the head of the group, advised everyone to avoid turning left where they would otherwise have done so — as Nik and I had done the previous year, getting ourselves lost. This whole section from Haslingfield control to the last one that we were then approaching, was 70km in length and rather tedious — in no small part due to the general lack of 'push' in the legs, low gears being required for every little hill. The last manned control was near Elsenham, in the Shaftesbury Cycling Club Hut; I recalled from the previous year that it seemed to be the home of quite a high-calibre racing club, with many pictures and mementoes of great achievments and famous riders decorating the walls; this time around I was too sleepy to look at them, and — I think — without even getting my card stamped I lay on a sofa with my legs on the back and fell asleep! 20 minutes later I awoke, groggily sat up and then fell asleep again; at least I'm told I didn't snore… With time ticking by and the others gradually getting ready to leave, I hurriedly got myself a bowl of cereal and a cup of something, filled my bottles, managed to apply a fresh coating of sunburn cream and stumble outside again before they left. My card's stamp is timed at 1130, 1 hour and 10 minutes before the control closed, but I suspect the time we left was about noon. The previous year's stamp had been more than an hour earlier.
Final slog
This last section of 60km was the one I was dreading. I recalled it as being unpleasantly steep, a stiff headwind and lots of very aggressively-driven cars and lorries; someone had said recently that there was extra traffic on the roads that day in 1998 because of some local attraction or other. This time, it turned out a little better than before: I had a bit more energy, the hills didn't seem quite so steep because I knew what to expect, and the headwind that I was expecting (having had a tailwind through the night) had magically disappeared without trace. The traffic was lighter but no less badly-behaved.
We set off on minor roads to begin with, taking up the B1038 at Clavering and passing into the last of the nine counties visited: Hertfordshire. The B-road had some pleasant undulations and no serious hills that I recall, and only a few idiot motorists who came flying past on blind bends; the thunderbugs had come out in force to annoy us, and I spent much of the time blowing them off my glasses or picking a complete, wriggling layer of them out of the suncream on my forearms, whilst simultaneously trying to get the obstinate wrapper off a PowerBar (almost impossible once it decided so). The worst section was to come with the 13km of A507 from Buntingford to Baldock; it starts with a big uphill, and then consists of a succession of ups and downs with many blind brows and several pairs of 90-degree left/right corners. As we strung out into a line, vehicles would overtake the first few riders and then try and force the others off the road when meeting an oncoming car; one caravan, which was wider than the car towing it, came unpleasantly close to a few of us, and I was reminded of the possible consequences by the several floral memorials on the roadside to people killed whilst travelling along this road. But the worst was the Sainsbury's lorry; I knew it was coming from a long way back, and equally I could see there wasn't a way past for it because of a long succession of blind curves and crests. It came up behind two or three of us as something came the other way; as I braced myself, waiting for the sickening thud, a huge whoosh right by my ear told me the driver had stamped on the air brakes just in time. He then put it in a low gear and sat right behind us, revving madly and surging forward to come alongside us from time to time. At one point he tried to overtake when there was not room, and he stamped on the brakes only just in time: above the roar of his engine I could hear the driver screaming at us in pure road-rage. But all's well that ends well, and future editions of the OxCam 400 will not be using that road — from Clavering to Baldock it will take to the back lanes, which promises to be infinitely more bearable.
Shaken, we continued with the intent of getting off that road as soon as possible; but near the village of Cottered, we passed a familiar figure sitting with his bike beside the road. Phil Hampton, who had only done about 500k already, looked all right but was making no attempt to continue the ride: his forks had broken and he was awaiting his riding-companion's car. He later discovered that he'd fractured his collarbone when the forks gave way. With a huge sense of relief we left the A507 after a final dice with unpleasant motorists at the traffic-lights in Baldock. The route took us along some quiet roads back into Bedfordshire and to Stotfold, and via a somewhat fiddly selection of paths and cycle "facilities" to Shefford, where a final information control was placed: we had just 12km to the finish. However, this was still time for one more 3km-section of the awful A507 which, by now, was quite busy; my group was down to the Hampshire-accented chap and Nik now, with the ladies' group a couple of minutes behind. A final, sharp climb in Maulden heralded the point where we had turned off towards Broom nearly 9 hours previously when coming in the other direction, and then we were back at the HQ. I parked up and sauntered in with an understated feeling of achievement, grateful to Mike Stapleton for having woken me that morning so that I could complete the ride.
Bath and bed
I'd completed the ride at 1455, 1 hour and 49 minutes inside the time-limit, and only 21 minutes later than the previous year — which was billed as 8km longer, however; this comeback was down to the lack of a punishing headwind in the final leg of the ride.
I went to the basin and washed the thunderbugs, sweat and suncream mulch off my face and arms, and changed into my casual clothes which I realised were very smelly, courtesy of my having worn them during the mid-night stopover. James from the Oxford City CTC plied me with toast and tea, and I pointed out the minor difficulties and glitches in the route notes to Mike Stapleton who, to his credit, was grateful to be told about them. Eventually I had packed my clothes, battery, remaining food et cetera, and so I hooked my panniers on, wobbled out of the car-park and set off — not for the first time that day — along the road to Ampthill town centre. It felt a little strange to be on a bicycle again, I had to restrain the urge to start pushing hard to get to the next checkpoint! At Flitwick station I caught a train for Farringdon, and promptly fell asleep on it quite unavoidably; because of the exercise I'd been doing, my body temperature was higher than usual so I was sweating profusely, which must have made me even smellier than I already was… and I kept waking up, afraid that I'd missed my stop. At Farringdon I elected to sit quietly on a bench for a while, cooling off and resting, watching the trains pass by; then I caught a train to King's Cross to pick up a timetable, and to Paddington (H&C). I wasn't just to catch a train straight away, because first I heard bagpipes and then noticed a large crowd gathered by platform 1: a special train, with the famous steam loco no. 4472 Flying Scotsman at its head, was sitting in the platform having completed its journey. The smell of the steam engine took me back to my days on the Mid-Hants Watercress Line, and for a while I'd almost forgotten that I was tired. When the special had been hauled away by a diesel loco, I caught (and fell asleep on, of course) a train to Oxford, just waking very briefly at Slough and Reading as we came to a halt. Back home in Oxford, I ran a bath, fell asleep in it until about 2 in the morning, washed, and at last fell asleep properly in my own bed.
Postscript
Since originally writing the above, I rode the 2000 edition of the OxCam 400k Audax. With no Paris-Brest-Paris for people to be preparing for, and various other popular Audax rides competing for attention that weekend, entries were well down on 1999, with 30 starters from 38 entries, and 24 finishers. The comparative thin-ness of the field gave the event a very different feel to previous years, and I was amazed to wake up at 0400 in the Ampthill control to find that, this year, everyone else had already left! I had a good time though, going very fast throughout the first day, keeping up with Dave Collins (!), feeling invincible, enjoying an ice cream as we rode out of Buckingham in the middle of the night; time-trialling the first leg in the morning drizzle to catch the others, and feeling pretty rotten for the rest of the day! However Mike's alterations to the route were a huge improvement and much appreciated by all. I completed the course in 24 hours 51 minutes, just 4 minutes quicker than the previous year (it's strange how you can approach the same ride in totally different ways and end up with the same end result).
Post-postscript
For 2001 the event was the National 400, with upwards of 200 entrants: the route was adjusted to include Berkshire instead of the Cotswolds. Unfortunately I hadn't done much cycling in 2001 owing to my job, and wasn't able even to consider entering. A pity, because I have no doubt it was a great event. Sadly, although I might have got my act together for 2002, Mike has not been able to run the OxCam 400 due to lack of support from his own District Association — a great pity in my view, but also understandable as these events require a huge amount of planning, organisational and operational effort which cannot be done by one person alone.
Readers may be interested in a well-written (and considerably more concise!) account by Philip Diprose of his participation in the Dunwich Dynamo overnight ride from London to the Suffolk coast: A Hard Day's Night.